I see the truth in it.
Senior Member
Joined

22 February 2006
Messages

481
Reaction score

476
Website
(I wasn't sure if this should be included under the Horizon thread, as there were at least 8 projects between Type 42 and Type 45 in the UK alone, let alone any other nations, and Horizon was just one of those)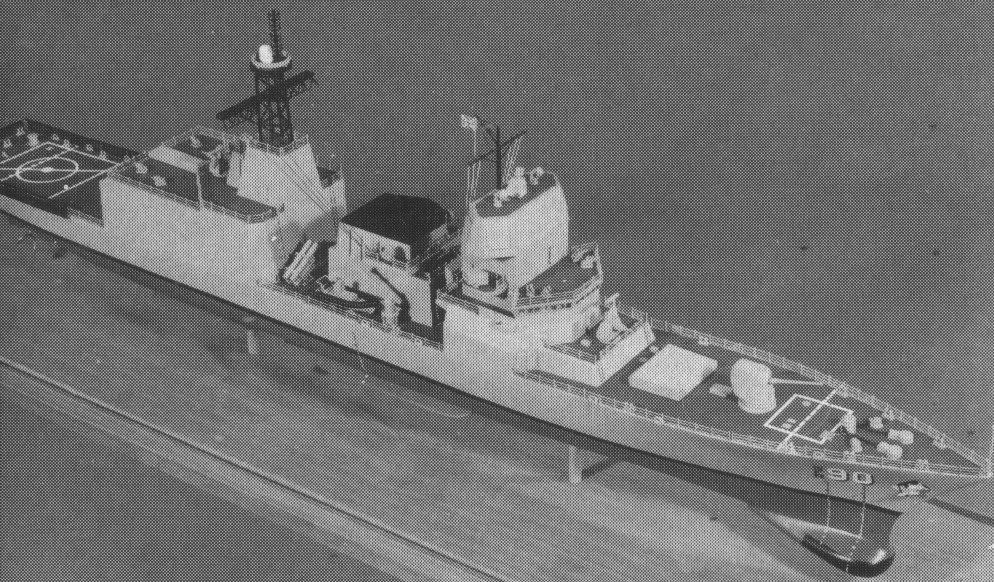 (Note that the image is resized by the forum code and is actually 994 * 582 pixels)
Reference:
Marriott, L, "Royal Navy Frigates since 1945, Second Edition", London, Ian Allen Ltd, 1990, ISBN 0-7110-1915-0
A model showing the principal features of the NFR90 project. Armament of this version appears to consist of a 5in automatic gun, a VLS surface-to-air missile silo, two Goalkeeper CIWS, Harpoon SSMs and A/S torpedoes. A large hangar is capable of housing possibly two Merlin-sized aircraft and a bow sonar housing is plainly visible.
My notes:
There appear to be two VLS silos, fwd and aft, as in most of the NFR-90 and early CNGF studies. The latter divides the aft superstructure into two hangars. Note the generally American appearance of this version - presumably it was for the USN.
There appear to be three missile illuminators, two on the superstructure fwd and one aft. All four faces of the phased-array radar system are in the fwd superstructure. Note the large number of chaff launchers (8). This is retained in the Type 45.
RP1