ACCESS: Top Secret
Senior Member
Joined

Feb 1, 2011
Messages

1,777
Reaction score

1,085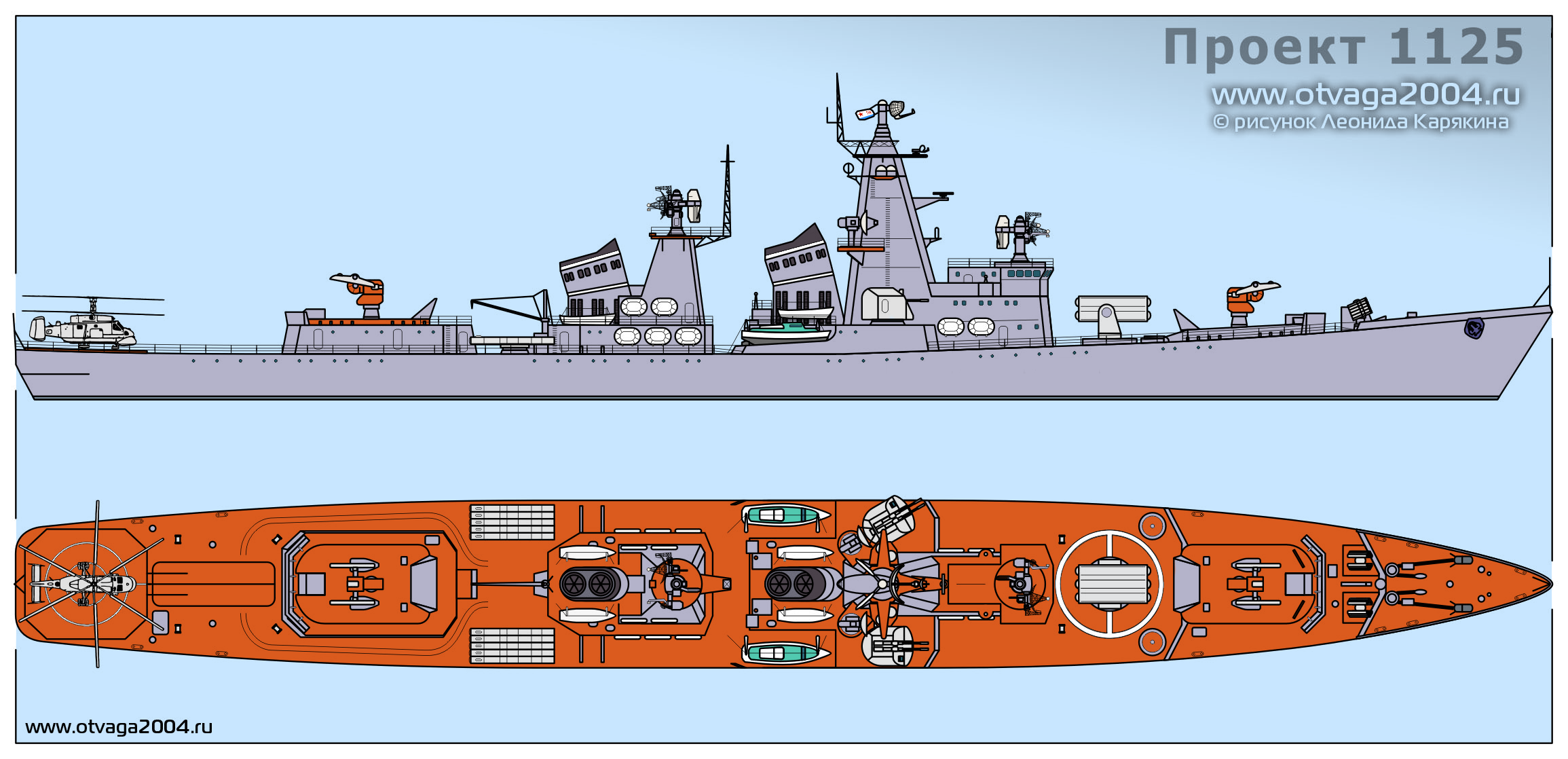 Original Lineart from the Russian Naval Site:
http://img-fotki.yandex.ru/get/9510/5684310.1/0_dacf5_3fde0669_orig
http://otvaga2004.ru/atrina/atrina-sovr/proekt-1125/
This is a generic info on the shp someone with better Russian language skills could make a better translation!
After the design of the first Kashin class ASW Guided Missile Destroyer, the Soviet Navy started to design a similar but larger vessel in the cruise size but with the same purpose. Design work completed in 1958 to for a cruiser sized vessel, which have standard 5,900 tons , 6,650 tons of normal , full 7,400 tons of displacement, speed of 40knots and the Project 58, the Kynda class cruiser hull as a base with a purpose to hunt the modern US Nuclear Submarines. Design work stopped in 1959-60 when the navy decided to mass produce the Kashins instead of this design.
Overview of this design:
Dimensions: 160x16x6m
Displacement: 7.400tons
Engine Power: 90.000shp 2 shafts
Maximum Speed: 74km/h (40knots)
Range: 7400km on 44km/h (4000nm on 24knots)
Endurance: 15-20 days
Armaments:
1x6 SUW-N-1 Anti Submarine Missile Launcher
2x2 SA-N-1 Goa Long Range SAM Launchers
2x2 76mm AK-726 Twin Gun Turrets
2x5 533mm Torpedo Tubes
2x12 RBU-6000 ASW Launchers
1-2 Kamov Ka-25 Hormone Helicopters
Original Lineart from the Russian Naval Site:
http://img-fotki.yandex.ru/get/9510/5684310.1/0_dacf5_3fde0669_orig
http://otvaga2004.ru/atrina/atrina-sovr/proekt-1125/