ACCESS: Top Secret
Senior Member
Joined

Aug 13, 2007
Messages

4,913
Reaction score

1,215
in end of 1930 the British aircraft manufacturer Hillson
came up with exotic Aircraft concept
to increase take off performance of monoplane, by making them temporal biplane !
the concept was called "Bi-mono"
Noel Pemberton Billing, (inventor, pilot and politician) proposed a wing with own engine that return to base
W. R. Chow (director at "F. Hills and Son") make suggestion of a disposable wing
Chow proposed the Air Ministry a small light fighter that used this exotic concept
so it can operate from streets or fields
although the Air Ministry refuse the proposal and go with Noel Pemberton Billing "Supermarines"
F. Hills and Son went on with project on equity financing.
after 72 day r&d and build, they had prototype ready !
on 16. Juli 1941 the Prototype made it first flight and drop test with out problem
the Aircraft was transfer to RAF who made more test
also was a Hawker Hurricane modified to a Hillson FH.40 for wing drop test
around 1943 the concept of "Bi-mono" was abandoned, because high production cost of disposable wings
Data Hillson Bi-Mono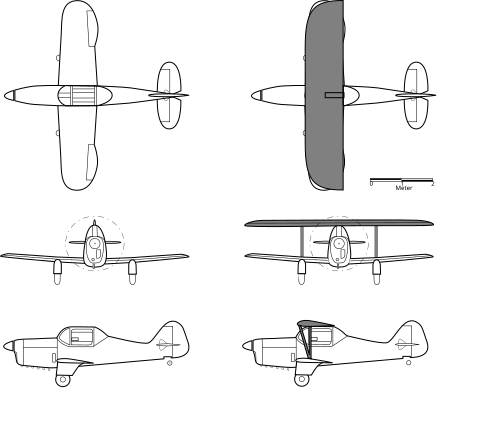 length: 5,95 m
wingspan: 6,10 m (in some test the upper wing had bigger wingspan)
height: 2,14 m biplane, 1,95 m monoplane
weight: 881 kg biplane, 840 kg monoplane
Engine: de Havilland Gipsy Six with 147 kW (200 HP)
one Pilot.
source in German
http://de.wikipedia.org/wiki/Hillson_Bi-mono
Picture
http://crimso.msk.ru/Site/Crafts/Craft21923.htm