Joined

Oct 18, 2007
Messages

2,010
Reaction score

1,299
Italian Navy during WWII started the conversion of the two almost-sister ocean liners ROMA and AUGUSTUS (they had only different engines), they was turned into AQUILA and SPARVIERO.
While the AQUILA was pratically finished (even if not still entered in service) when Italian signed the Armistice with Allies, the SPARVIERO was only an leftover hull in Genoa's mooring port.
AQUILA aircraft carrier has a vast an qualified iconography, photos, drawings and blueprints that depicts the ship with high level of fidelity, unfortunately for SPARVIERO only some photos of the hull are available and no more about its final layout.
Said that all the drawings that currently it is possible to find on Internet about SPARVIERO's layout are wrong or, more correctly, they not represent the final and real design of the ship, since they are related to the original project of ROMA/AUGUSTUS conversion drafted back to 1936.
In the two authorative books:
- A. Rastelli "La portaerei italiana, cento anni di dibattiti e progetti" (Mursia, 2001)
- M. Cosentino "Le portaerei italiane" (Albertelli Edizioni Speciali, 2011)
the SPARVIERO final layout, dated back to January 1943, is well described, as follows:
Lenght: 216,65 mt
Width: 34 mt (bulges)
Lenght: 180 mt (flight deck)
Width: 25 (flight deck)
Mass: 28,000 tons
Aircrafts: 35 Reggiane 2001 OR
Weapons: 8 x 135/45, 12 x 65/64, 24 x 20/65 (A.A. maching guns in group of 6)
Furthermore the ship would have a small island, an hurricane bow, a couple of German catapults, four arrest cables.
Starting from such info I decided to try to reconstruct the most likely design of SPARVIERO, in doing that I helped myself with the AQUILA design of June 1941 (U.P. 188 Progetto Bozzoni) and with the postwar proposal to convert the cruiser TRENTO hull into a small aircraft carrier for Spain (Proyecto N. 65 dated 1949).
This a speculative design but for sure more representative of all 1936 drawings, of course I'm willing to modify/update it if and when new documented info will be available.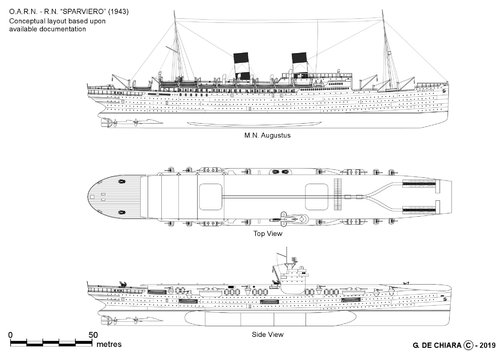 Last edited: