So many projects, so little time...
Senior Member
Joined

Jun 25, 2014
Messages

816
Reaction score

293
Website
Motocar was the one who made the speculative cutaway that bothers him so much, rather than enjoying it...
Oh, but I do enjoy it Motocar! It is a beautiful image, so much better than I can draw. As I said, it is only when it is presented as accurate that I am unhappy.
In case it helps, here is my own crude effort to put right some of the inaccuracies: the cockpit is moved forwards, the nose line smoothed, the nose intake more circular, the guns back behind the pilot, the canopy extended backwards, a steel wing box/fuel tank (with some internal stiffening) depicted and the undercarriage rearranged behind it (though the hinge is still too far forward and outboard), a central sheet steel chassis and carry-through box to which the wing is bolted (I am unsure if the jet intake or cockpit armour would have been integral with it yet). It may be rougher, but it is closer to the actual design.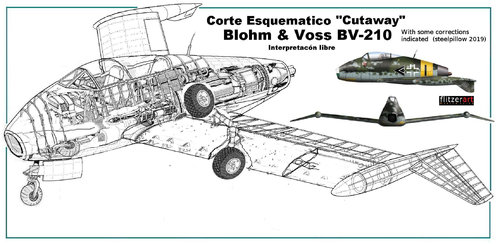 Last edited: