ACCESS: USAP
Senior Member
Joined

Oct 9, 2009
Messages

17,249
Reaction score

6,887
The Navy's new unmanned campaign plan lands with mixed reviews.

www.defensenews.com
Most notably, the Navy did not seem to have many answers as to what changes it would make to avoid costly mistakes such as the Remote Multi-Mission Vehicle, an unmanned system that was expected to form the backbone of the littoral combat ship's mine-hunting mission package but was canceled in 2016 with hundreds of millions of dollars already sunk into the effort.
High-profile failures, such as the RMMV, are at the core of the Navy's credibility problem on Capitol Hill. And if the Unmanned Campaign Plan released to the public was part of the effort to restore Congress' trust, it's unclear how many were swayed.
"With the recent acquisition failures on the last several ship classes, those of us on this committee are skeptical of the Navy's ability to shepherd this new technology into employable assets that contribute to the lethality of those forces," Luria said at the hearing.
The document also outlines that the Navy is shifting away from a focus on building large, expensive platforms and instead focusing more on fielding capabilities with an eye to how unmanned systems can be useful in meeting naval requirements.
"Through a capabilities-based approach we can build a future where unmanned systems are at the front lines of our competitive advantage," the document read. "The Naval force needs to move toward a capability-centric proactive environment able to incorporate unmanned systems at the speed of technology, to provide maximum agility to the future force."
That approach may differ from the approach taken with the RMMV, which was conceived from the outset as means to "get the man out of the minefield" by having an unmanned system find and neutralize a mine. The technology proved unreliable and unworkable, and the Navy has yet to field its replacement system for the LCS mine warfare mission package.
The subject of the RMMV came up at the hearing Thursday, after Rep. Rob Wittman, R-Va., used it to illustrate a point about preventing programs from lingering long after it appears unlikely they'll succeed.

"The program went on entirely too long, we didn't take lessons learned and we sacrificed needed capability based on the promise that something better would be coming along," Wittman said.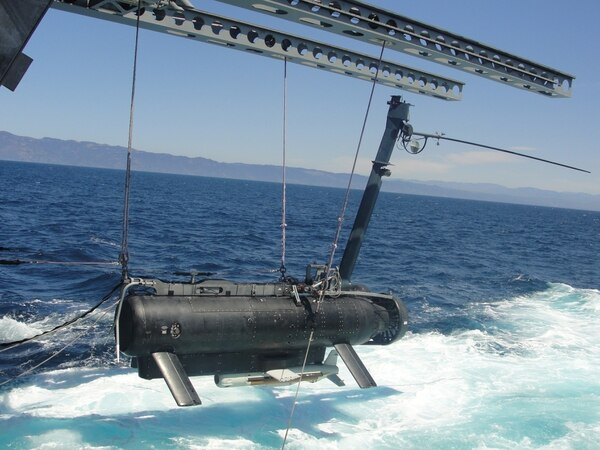 ORIGINAL CAPTION: The littoral combat ship Independence deploys an RMMV while testing the ship's mine countermeasures mission package off the southern California coast. (Courtesy of Austal USA via U.S. Navy)