I'm dissatisfied, which means, I exist.
Joined

May 30, 2013
Messages

1,299
Reaction score

809
Website
Let's assume that USSR started to experiment with carriers in late 1920s, with planned rebuild of the training ship "Okean" into the light/training carrier "Komsomolets". While slow and of limited usefulness (roughly the equivalent of USN's "Langley"), this ship still allowed Soviet Navy to gain initial experience with deck-based aviation and its operations.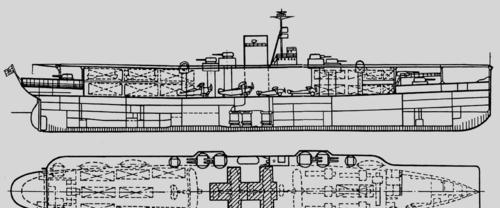 Some more experience was gained during World War 2, when Soviet Navy operated CAM ships at Black Sea, and maybe even received some MAC ships from Royal Navy as part of lend-lease.
So, when the major Soviet Navy buildup was launched in 1950s, the carriers followed also. Considering the Khrushev preference for highly specialized, smaller warships over multi-purpose large ones, the Soviet carriers would probably be relatively light, and generally oriented toward air defense, anti-submarine patrols, and providing fighter cover for land-based long-range bombers. I.e. they would be light air-defense carriers, not strike ones. Something like PBIA project (Plavbasa Istrebitelnoy Aviatsyy - Fighter Aircraft Floating Base), suggested in 1959: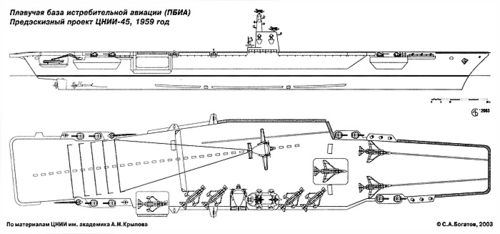 So, by mid-1960s, USSR have four light 20.000-ton carriers in Pacific and four in Northern Fleet. Roughly they are:
* 20.000 tons displacement.
* Gas-turbine powered.
* Fuel-air catapults (no experience with steam ones, also gas turbines do not give steam)
* 24 fighter aircraft (Mig-19 derivative, planned to be replaced with Mach 2 fighter), 2-4 aerial early warning aircraft (
Tu-91 AEW derivative
), some copters.
* No attack aircraft - the carriers are only to provide reconnaissance and fighter cover for missile-carrying bombers and submarines.
Also, some Project 68-bis (Sverdlov-class) cruisers were rebuild into single-ended missile cruisers, armed with Volkhov-M SAM (naval version of S-75) with
17D ramjet missiles
(ramjet kerosene is more... storable onboard the ship, than rocket fuel), and six unfinished 68-bis cruisers were completed as double-ended missile cruisers with Volkhov-M SAM and P-35 cruise missiles. They formed the escorts for carriers.
My question is: how would the USN and NATO navies evolved, if they were forced to dealt with the problem of Soviet aircraft carriers from the very beginning of the Cold War?
The presence of Soviet carriers, capable of providing fighter cover in open sea, would make defense of USN and NATO battlegroups much more difficult. It is one thing to intercept heavy jet bombers in non-contested airspace; it's completely different thing to do, if there are Soviet fighters presented, covering bombers against US interceptors. Also, searching for Soviet submarines would became much more difficult, if you need to reinforce the ASW patrols with fighters. And, attacks against Soviet ships and battlegroups became much more complex and dangerous too - due to presence of AEW-guided Soviet fighters, ready to engage the attacking aircraft.
This would obviously require some quite serious change in USN structure and weapon systems. Question - what would they probably be?
Last edited: