Joined

Nov 13, 2019
Messages

116
Reaction score

88
1910 Russian scheme of the Argentine battleship Rivadavia under construction in the United States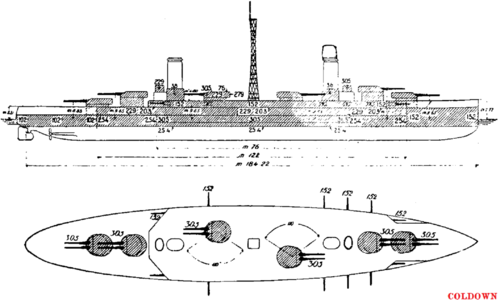 This scheme isn't perfect but it's a good work of the spirit of this ship.
Quotes of the article:
"The displacement on samples should equal to 27,800 tons, and on the battleships should contain all cargo and 1000 tons of fuel, i.e. 40% of full its stock."
"Length 184.22 m., Width 29.26 m."
"Twelve 305mm .; twelve 152mm .; twelve 102mm. Guns.
305mm: 394kg, 914m/s, 16,890mt, 2r/min.
152mm: 47.6kg, 914m/s, 2.082mt, 8r/min.
102mm: 15kg, 914m/s, 640mt, 12r/min. "
"Mine armament of battleships will consist of two onboard underwater vehicles for firing 53 cm. Mines."
"The total capacity of the turbines is equal to 40,000 hp, which corresponds to a normal displacement at 27 800 tons, the speed at 22.5 knots. But it can be expected that the power will actually reach 45,000 hp from. And speed stroke - up to 23-23.5 knots. "
"The radius of action is: 10,500 miles at 11-knot"
"The estimated cost of one battleship is £ 2,190,000."
Armor details are in the scheme.
Of course, Russian-Spanish-English translation xD
Source: The article "Новые аргентинсше эскадренные броненосцы" can be found in the "Morskoj sbornik 357 / 03-04" (1910).