ACCESS: USAP
Top Contributor
Senior Member
Joined

5 April 2006
Messages

11,384
Reaction score

8,373
Website
http://www.up-ship.com/Book/preview.htm
I have released a "Preview" of the US Bomber Projects book as a downloadable PDF file. This 39 page work contains information, drawings and all-new artwork on 15 designs ranging from WWII to today.
This 39-page preview contains information and artwork on fifteen distinct bomber designs. These are:
Submarine-launched "Project Pluto" (small nuclear ramjet vehicle)
Douglas Model 1064 flying wing (strategic bomber)
Douglas Model 1186A multi-stage aircraft (X-3-derived bomber)
The "NASA logo bomber" (the source of the "swoop")
12-meter Orion Nuclear Pulse Vehicle (cis-lunar doomsday weapon)
Orbital Sciences X-42 (modern "reusable ICBM" first stage)
Boeing Model 448 (early stage in B-47 development)
Douglas MX-2091 (subsonic small missile carrier)
Martin Model 329 C-1 (supersonic seaplane)
Convair WS-110A Two-Stage Aircraft (subsonic tow plane, Mach 3 bomber)
Lockheed NEPA (early giant nuclear-powered design)
North American D436-21 (early AMSA/ B-1 design)
Boeing Model 813 (two stage hypersonic cruise bomber)
Lockheed CL-292-6 (nuclear-powered missile carrier/airborne DEW line/aircraft carrier)
Northrop Quiet Supersonic Platform (low sonic boom strike plane)
Included in this Preview are works of art from myself (line drawings), Matej Furda (color reconstructions), J. P. Santiago (color reconstructions) and Damon Moran (cutaway drawing). This is all art commissioned especially for US Bomber Projects.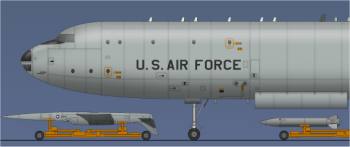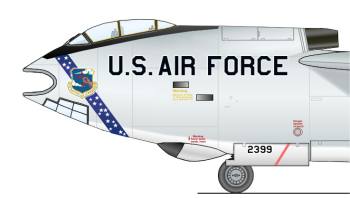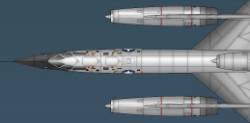 The Preview is available as a downloadable PDF file for the low and no-postage-needed price of $8.00, payable via PayPal. I don't yet have the PayPal "shopping cart" set up yet, so if you would like a copy of the preview and you have a PayPal account, simply go to PayPal, sign in, and "Send Money." Send $8.00 in US Dollars to
apr-pp@ix.netcom.com
for "goods." Make sure to include "preview" and your email address in the "message to recipient." I will then e-mail you a link, where you can download the Preview. I will change the link address randomly every day or so, so if you try to download it and it's not there... send me an e-mail, and I'll send you the new link. The Preview is about 2 megabytes.