Indonesian here. The reason why our goverment is not that confident or that "straight" or consistent in the cost sharing payment is
not
because of our goverment's uncompetency or such stuff but because we (Indonesia) will
NOT
get all 4
CORE TECHNOLOGIES
that are required to make the KF-21 Boramae good. The KF-21 technology was heavily influenced by Lockheed Martin's equipment and Indonesia needs to agree to a thing called "Defence Technology Security System" or
DTSS
. This agreement require Indonesia to keep the technology (that we get from the US for our KF-21) secret and secured so that other country could not have that technology for them so that they could fight us or the USA.
Here is the list of that 4 primary core technologies that Indonesia couldn't get on our KF-21 if we didn't sign and agree on the DTSS agreement:
1. AESA Type Radar
2. Infrared search and track (IRST) system
3. Electro-optical targeting system
4. Radio frequency (RF) Jammer
Those technology are smilliar to the F-35 core technology that of course is very secret: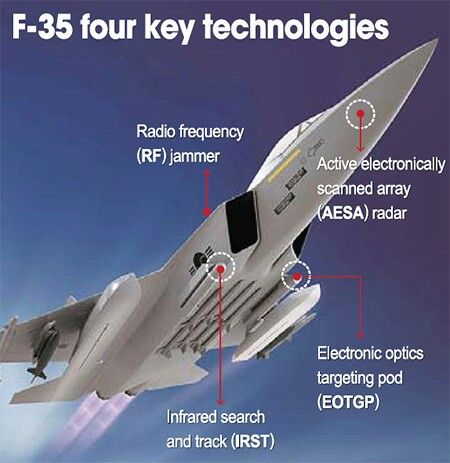 This is the reason why our goverment is not very consistent in the payment as we need to think twice wether we should continue to invest and develop on this project or not since agreeing to DTSS needs money (which we are struggling now because of COVID and stuffs) and also the infrastructure and other stuffs too. So this is the main problem that we needs to solve on the KF-21 Boramae program. But as for now our goverment is commited and are trying to renegotiate on it's program with the South Koreans and I hope we will fix this problem soon enough.