Joined

5 March 2009
Messages

193
Reaction score

6
Website
An all new kit is NOW AVAILABLE from STRATOSPHERE MODELS,
the MDD FDL-7 Model 176, M.O.L. Space Station Rescue & Transport Vehicle.
This classified hypersonic lifting body spacecraft is a 1/100th SCALE LIMITED EDITION RESIN KIT.
It continues and complete my new line of hypersonic classified spacecrafts from the US Air Force from the 1960's and 70's. The MODEL 176 kit is to scale with both my FDL-5 and my FDL-7 C/D in my 1/100th scale line ! (as well as with 2 more new model kits to be announced soon !).
A member of the classified family of high-lift-to-drag ratio hypersonic reentry shapes designed by the USAF Flight Dynamics Laboratory during the 1960's at Wright Patterson, Ohio, the FDL-7 MODEL 176 is still very much classified after nearly 4 decades. The FDL-7 MODEL 176 was further developed into mission-oriented vehicles by Mc Donnell Astronautics Corporation.
MODEL 176 began as a collaboration between Robert Masek at MDD and Alfred Draper of AFFDL in the late 50's. After a series of experimental wind tunnel research and scale models flight tests with different configuration, the FDL-7 C/D glider emerged as the configuration that was stable and had Earth circumferential range. The result was the FDL-7 MC and then the MDD Model 176.
The FDL-7 Model 176 was intended as a crew transport and crew rescue entirely reusable hypersonic glider as well as a re-supply vehicle for the USAF MOL Space Station (Manned Orbital Laboratory). The MOL Space Station would have carried a crew of 20 to 27 persons. One vehicle was to be docked to the MOL at all time as a rescue vehicle. It could have carried a crew of up to 13 persons.
There were 2 launch options for FDL-7 MODEL 176: one used the SOLTAN rocket (Solid TitAN), in this case the MODEL 176 would have been a pure glider with no main large propulsion engine, except for a de-orbit engine.
The other option was a stage-and-a-half configuration that included the FDL-7 vehicle and two large external fuel tanks on each side of the spacecraft and would have been entirely reusable. In this particular configuration, the FDL-7 MODEL 176 would have had to carry one or several large rocket engines as it's main propulsion system to reach orbit. The engine could have been the XLR-129, and engine developed for a USAF military program during the 1960's.
MODEL 176 would have been flight tested with the expandable Titan rocket launcher.
A phosphore-coated, wind test tunnel model of the McDonnell FDL-7 MODEL 176.
Ogival nose version wind test tunnel model of MODEL 176, bottom view. This is also the one i modelled.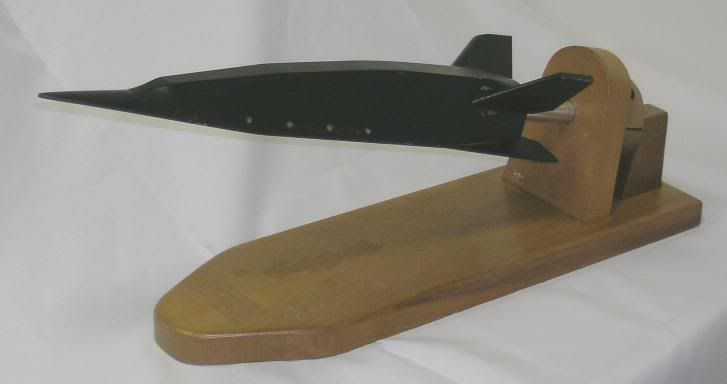 Black painted wind tunnel model, this is the conical nose version of Model 176.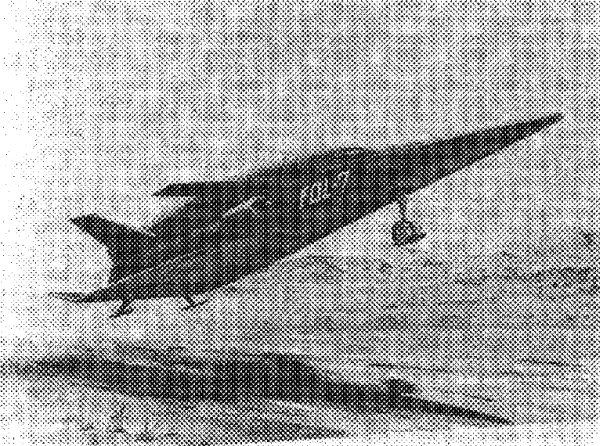 MODEL 176 with fold out wings landing on a dry desert lake bed.
Note the very rearward position of metal skids used as main landing gear, because of the very nose high landing attitude of the spacecraft.
The FDL-7 MODEL 176 seems to also be inked to project Rheinberry, it was a very secret CIA and USAF reconnaissance aircraft project that might have replaced the Lockheed A-12 if it had been fully developed. Dick Mulready : "Advanced Engine Development at Pratt & Whitney". "The inside story of eight special projects". Published by the SAE. Society of Automotive Engineers).
More details are available in the 4 pages of technical and historical information included with each kit of the FDL-7 Model 176 from Stratosphere Models, including photos and drawings.
The NEW FDL-7 MODEL 176 model kit RETAIL PRICE is 45.00$US and it is available right now.
Please check my website for the NEW STANDARD LOW PRICES on ALL the AFFDL series of hypersonic black project spaceplanes KITS from Stratosphere Models ! There will also soon be an announcement concerning NEW VERY SPECIAL offers !!
Stephane
Stratosphere Models.
email: stratospheremodels@yahoo.fr
website: http://www.picturetrail.com/stratospheremodels