ACCESS: USAP
Senior Member
Joined

May 26, 2006
Messages

29,112
Reaction score

7,036
Hi,
Mr. Zdenek Rublič was from Czech,and he born in 1902,became interesting in Avia from 1920s,then with Mraz after the
WWII with Sokol,and in 1961 he developed a R-7 Racek,which was a single seat low-wing aerobatic monoplane,powered
by one 160 hp Walter Minor 6-III engine.
But if he had a series of aircraft,does anyone hear about it,and if he had a Projects or not ?.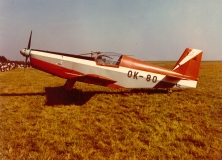 Dnešní náhled do letecké historie nám poodhalí dílo významného leteckého konstruktéra Zdeňka Rubliče, a především pak osud jednoho z jeho "dětí" – Rubliče R-7 Racka.

www.aeroweb.cz