ACCESS: Granted
Senior Member
Joined

May 18, 2019
Messages

473
Reaction score

963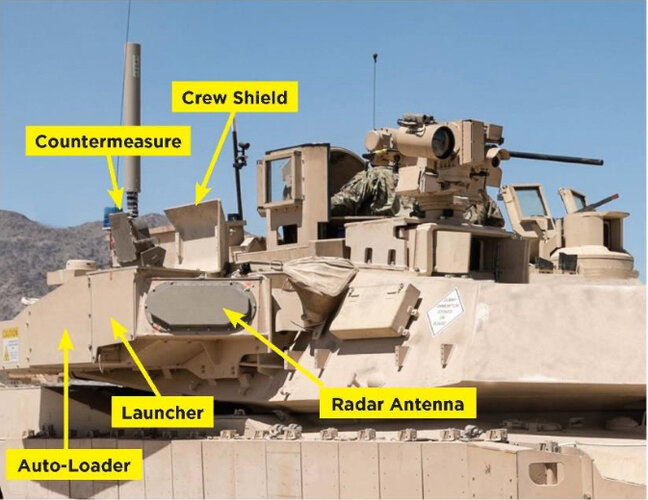 Rafael has delivered the final Trophy active protection system (APS) to the four Armored brigade combat teams US Army. The company began delivering the systems to the service in September 2019 and its US partner, Leonardo DRS, announced final delivery on 6 January.
=============
Received the Leonardo DRS award for 100% on-time delivery performance. As part of the Trophy active protection system, nearly 400 radar systems will be integrated into the US Army's Abrams tanks
https://www.janes.com/defence-news/news-detail/us-army-receives-final-trophy-aps
https://www.iai.co.il/iai-completes-windguard-radar-deliveries-to-us-military
еach Armored brigade combat team includes 87 Abrams, 4*87=348 tanks
In September 2017, the Army completed Phase I testing. Phase I testing also included 10 Marine Corps Abrams tests with moving vehicle and inert threats.

In September 2019, the Army completed Phase II testing, which included:

Operational testing at Fort Bliss, Texas, from November 28 through December 14, 2018. An armored platoon outfitted with Trophy APS-equipped M1A2 SEPv2 tanks successfully conducted maneuver and gunnery test events. The test unit completed Trophy APS familiarization training, a force-on-force maneuver event against an opposing force, and tank qualification gunnery. The final test event consisted of four effectiveness shots utilizing inert RPG threats to assess how well Trophy APS retained system calibration following maneuver and gunnery.
The Army and Marine Corps completed 62 live fire tests including some operationally stressing conditions (e.g., background clutter, rain, concrete walls) to adequately evaluate the APS performance. Live fire testing included inert unguided threats fired against either a fully functional Abrams SEPv2 or Marine M1A1 tanks equipped with Trophy, and live rocket and missile threats fired against a ballistic hull and turret tank shell powered by a generator.
The Army completed one live fire test against a fully functional Abrams SEPv2 tank to assess a potential for cascading, system-level damage effects post intercept. -The Army conducted Trophy APS Phase II testing at Redstone Test Center, Aberdeen Test Center, Yuma Test Center, and Fort Bliss in accordance with DOT&E-approved test plans.

The Army is planning a Phase III test series to examine Trophy APS as installed on Abrams SEPv3 vehicles.
https://www.dote.osd.mil/Portals/97/pub/reports/FY2019/army/2019aps.pdf?ver=2020-01-30-115323-267