Here are a few informations about the new MiG-35 avionics suite, revealed at the Aero India 2007.

OLS-UEM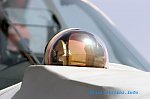 OLS-UEM can detect & track air targets automatically. It consists of IR camera with matrix 320x256 and TV camera 640x480. Their cover is made from leucosapphire. The mirror scan the air space of +/-90 degrees horizontally and -15/+60 deg vertically. Target can be detected from 45 km (rear hemispere) and 15km (front). Laser rangefinder work in two modes. Training (safe for eyes) and combat, in a range from 200 m up to 15 km. The station weigths 78 kg and is mounted in the same bay as the old OLS-29 was. Indian MiG-29KUB will receive a bit simplier OLS-UE version.
OLS-K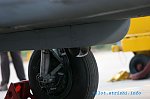 OLS-K is designed to detect and track ground targets, it detects tank from 20km, rocket boat from 40km. Laser has range of 20km. System use the same technology as OLS-UM. It was made by NII PP institute, which previously made opical devices for space industry.
SOAR
System consist of two stations, one on engine's gondola, second on the top of the fuselage, behind the cabin. It detects rocket launches and shows the direction from which the missile is coming. The threat is also signalled by vioce. It can detect Stinger/Igla from 10km, a2a missiles from 30km, big surface to air missiles from 50km. SOAR was also developed in NII PP Institute.
SOLO
Laser warning system SOLO cover the area of 360 degrees. It can detect laser which is illuminating the plane from 30km with 0.5 degree accuracy.
ELT/568(v)2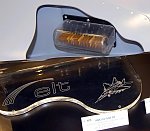 It was made by Italian Elettronici. System cover the frequencies from H to J (built-in part) and E to G (container part).
Source:
Piotr Butowski ''New sensors of MiG-35''
Nowa Technika Wojskowa 03/2007
For the end, I want to give my special thanks to
Kusch
for all the gathered informations, and to
some1
for the English translation.