recent article talking about the integration of various air to ground missiles on both the FA-50 and KF-21. basically the Taurus series and LIG

its interesting to note how many European missiles the KF-21 is planned to operate. its basically a Eurofighter but Korean

it says it would take 2 years to integrate or something like that

현재 KF21, FA50에서 운용할수 있도록 개발하려는 장거리 순항미사일후보는 각각 2종 입니다. 1. 타우러스 KEPD 350K-2 2013년......
Nope. The ALCM that's going to be integrated to KF-X is being developed by ADD and LIG Nex1.
There are 3 ALCM programs currently known, of which 2 are official. First is the Taurus KEPD-350K procurement for the F-15K. Second is the LIG Nex1 ALCM program, dubbed the "Long Range Air to Ground Missile" program. LRAGM is placed roughly in the same category to the KEPD-350K, so 500+ km max range and 1,000+ lbs warhead.
LRAGM is currently under development. It will be developed by 2028 at latest, when the block 2 of KF-X is to be finished, and will be tested onboard the F-4s. Since phantom's avionics are too old to handle such advanced munition, testing scheme has been arranged in such way that the LRAGM is connected to an external mission computer, mounted externally in form of a fuel tank-looking pod. This I've hear was due to the fact that ROKAF was reluctant of providing their F-16PBU for testing purposes. Other aircrafts in ROKAF would be hard to be used for such purposes considering the fact that they haven't got much control over its source codes. FA-50 will be too small as well.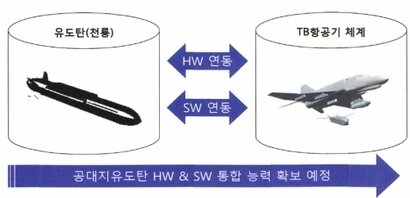 The name of the missile itself btw is Chunryong, which dubs as "Sky Dragon". Sounds like crap but believe me, it doesn't sound
that
bad in Korean.
Then there is this program which is called the "Medium Range Air to Ground Missile". This program is currently going through ROKAF internal feasibility studies I've heard, which means nothing of it is official. ROKAF thinks that this program is not really urgent, since it will be primarily be used by the FA-50, replacing the Pre-ATO allocated to the F-4s' Popeyes. There currently 2 offers regarding this program, which are from Hanwha and Taurus GmbH(so MBDA, kinda).
Hamhwa is offering a license produced Roketsan SOM. Discussion between Hanwha and Roketsan seems to have been in place even prior to 2019 it seems. This makes sense for both parties, since Hanwha lost to LIG in LRAGM program and Roketsan lost its sales prospect for SOM-J after Turkey's expulsion from the JSF program.
Taurus on the other hand is offering what is known as the KEPD 350K-2, a smaller version of KEPD 350. I should say it reminds me of the old KEPD 150 a bit as well. Their original goal was to offer it to ROKAF as an ALCM for their F-16 fleet. For such reason it weighed around 1,100 kgs, meaning that its use on FA-50s would have been unsuitable. Then they've chamged their target as ALCM small enough to be operated by the FA-50, further minimizing its size into a sub-700 kg class ALCM. It has been revealed in the interview with president of Taurus Systems Korea last November, that Taurus Systems have sent RFI for possible joint,development to several entities within Korea, ramging from gov. agencies like ADD to private companies like Hanwha, KAI, LIG, etc.
I personally favor Taurus' offer for MRAGM over SOM for obvious reasons, including maintenace commonalities.