Hello to all on Secret Projects. I am currently carrying out research for a proposed book on the OH-6/H500 series of helicopters, focusing on the prototype and test versions of this family of helicopters. There is a great depth of knowledge here on this forum and any assistance received for this book project would be gratefully received. First off, a query about a possible compound version of the OH-6A.
I came across this drawing in the January 1965 issue of "Flying Review International".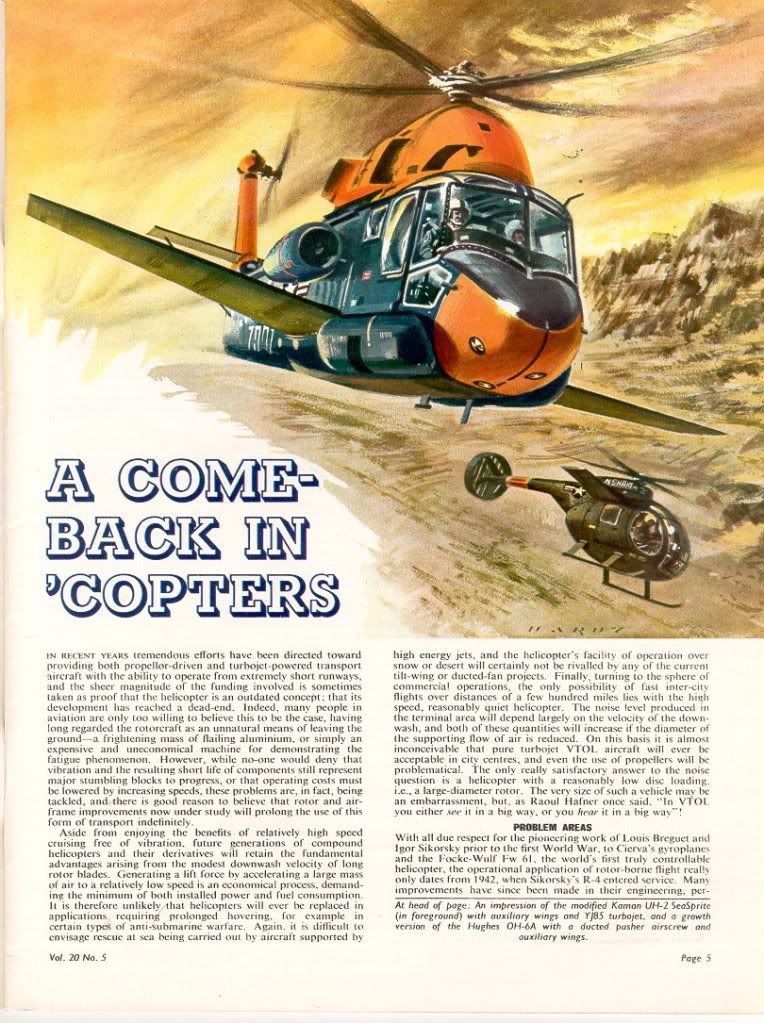 It mainly depicts a compound helicopter version of the Kaman Seasprite (which did fly). Visible in the background, however, is an interesting version of the Hughes OH-6A, complete with short wings and a ducted tail propeller. At first, I thought it was just a figment of the imagination of the artist. This helicopter is mentioned in Wayne Mutza's book "Loach" in relation to the Hughes OH-6C and it is described exactly as it appears in the drawing. The OH-6C dates from 1971 while the above drawing is obviously from many years earlier. It would appear then that this compound version of the OH-6A was something Hughes Helicopters did some research into, though it appears that it certainley didn't fly or even make it into full-scale mock-up form.
My query is, does anyone have any of the following;
1. Any further knowledge of this version of the OH-6A?
2. Any official line drawings emanating from Hughes Helicopters?
3. Any other drawings of this helicopter?
4. Any photos of any company scale models of this helicopter?
Thanks in advance to anyone who can help with this query.
500 Fan.