Joined

Nov 8, 2008
Messages

32
Reaction score

10
Website
Gordon CSWS
Assault Shotgun:
Battle Rifle/LSW: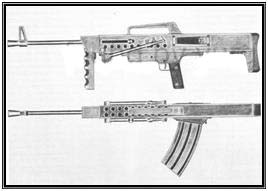 SMG: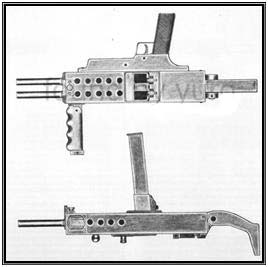 Assault Rifle:
Machine Shotgun:
The Gordon Close-Support Weapon System (Gordon CSWS) was an exotic firearm project of Australian origin.

A very unusual weapon system was proposed at one time Australian Duncan Gordon. It was assumed that the basis of this family of automatic weapons constitute a belt fed machine gun, automatic shotgun with box magazine and the double-barreled submachine gun with overhead inserted magazines (A la Villar-Perosa SMG) is very unusual configuration. Gordon has developed its weapons, based on personal combat experience gained in Vietnam, where he served in the forces of SEATO. Design drawings and the general conception of his ideas involved in the Australian company BSP Planning and Design Pty. Ltd. in Norwood. Led the team of engineers, Peter Chant. Work began in early 1970.

The system was developed by 1972, and drawings were accomplished engineer Dale Evans. This system was a quick-barrel weapons, while the overall configuration has a mixture of ideas of the British EM-2, as well as WW2 platforms such as the German FG-42 and the American M1941 Johnson LMG. Any type of weapon could be adapted to fire as the conventional rifle cartridge and a 12 caliber bullets. Automation system, applied in the arms of an identical pattern of patent 1.834.021 J. Destree, and used to solve problems by firing rifle bullets and shot with the same weapons sites.
Source: http://dogswar.ru/oryjeinaia-ekzotika/strelkovoe-oryjie/865-sistema-oryjiia-dynk.html