Joined

23 June 2007
Messages

19
Reaction score

2
Website
Disclaimer:
As anyone familiar with my Laternentrager thread is probably aware, I have some fairly strange theories. Also, from the Laternentrager post, I am aware that several of you feel one of my sources, Nick Cook, is not a reliable source, even though he has been associated with Jane's Defense Weekly for a number of years as Aviation Editor and currently as Aerospace Consultant, has won four writing awards from the Royal Aeronautical Society, is widely regarded as an expert on military "black projects", and adopts a non-judgmental stance when interviewing subjects who clearly believe in UFOs, alien contact, conspiracy theories, and other unusual phenomena and as a result, cannot be classified as either a skeptic or a believer. Clearly some people find him a reputable source, and I am one of them, weather that is good or bad. Individually it tends to be easily dismissed as coincidence, but taken together it actually (in my opinion) holds water, little as it may be. I am in no way stating this is irrefutable proof, nor that it is a complete and exhaustive amount of research, I have barely scratched the surface, and freely admit that, so take my research however you will.
End Disclaimer
B-2, Electrostatically Charged:
Antigravity? Electrogravitics?
Maybe... Maybe not; but one thing that I do believe concerning the B-2 is that the leading edges are indeed charged with high voltage, and quite possibly the trailing edges or the exhaust as well. I've read it in authoritative aviation publications.
Sure, the military & defense industry provided the news media/general public with some information about the craft's outward design, and low radar and infrared profile, but there is much they continue to be silent about.
Some key secrets about the B-2 were leaked to the press in the March 9, 1992 "Aviation Week and Space Technology" magazine, in this issue it was reported that the B-2 electrostatically charges its exhaust stream and the leading edges of its wing-like body. Jane's Defense Weekly and other reputable publications also picked up on this and many field related academicians, intrigued laymen, industry professionals and conspiracy theorists alike began to hypothesize why this was done.
Some Research:
Misinformation from development engineer to Jane's DW editor:
Nick Cook, aviation editor for Jane's Defense Weekly caught a Northrop B-2 development engineer in a deception (lie) the engineer apparently told Mr. Cook in an interview that the B-2 could not have electrostatically charged skin, because it would turn the airplane into a giant lightning conductor eluding that this would fry all the assets onboard. This was misinformation as the Jane's Defense Weekly aviation editor pointed out, the internals of the B-2 are actually housed in a "Faraday Cage", in other words, it doesn't matter how much electricity you pump across the skin, leading edges, etc, the inside of the plane remains insulated from the outside current.
The other argument that the engineer gave is also very badly flawed. He stated that all aircraft have small wire aerials on their wingtips to discharge the static electricity the build up as they move through the air (this much is true) and that adding to the static buildup with man-made charges would be very risky since there would not be a way to discharge it quickly enough. That would be correct if the B-2 was designed like most aircraft, but with it's sawtooth trailing edge it, in effect, has 7 wingtips from which to discharge the buildup. The B-2 can effectively discharge static buildup 3.5 times faster than a conventional aircraft.
Also, I ran across a report called ELECTROGRAVITICS SYSTEMS: An examination of electrostatic motion, dynamic counterbary and barycentric control.
http://www.padrak.com/ine/INE24.html
This,
http://www.seaspower.com/Movingbeyond-LaViolette.htm
is interesting as well.
Northrop's Wind Tunnel Tests. In 1968, engineers at the Northrop Corp. performed wind tunnel tests in which they charged the leading edge of a wing to a high voltage. They were investigating how this technique could be used beneficially to soften the sonic boom of aircraft. Hence they were performing large scale tests on Brown's electrogravitic concept. Brown's R&D company had previously made known that sonic boom softening would be a beneficial side effect of this electrogravitic propulsion technique. Interestingly, Northrop later became the prime contractor for the B-2 bomber.
Taking that information I decided that it might be easier to determine if those tests existed and what the results were that to determine if the B-2 was using the "electrogravitic drive". I found this site,
http://www.setv.org/online_mss/lafl-osr.html
which states:
Northrop officials concede that communications problems would arise in a charged aircraft, but pointed out that a solution might be found in the method used to maintain communication through the plasma sheath of a spacecraft during re-entry.
That reminded me of a previous site that I encountered,
http://www.globalsecurity.org/wmd/systems/b-2-upgrades.htm
, which talks about upgrades to the B-2, including the following:
DoD requires survivable communications media for command and control of nuclear forces. To satisfy the requirement, the Air Force plans to deploy an advanced Extremely High Frequency (EHF) satellite communications constellation. This constellation will provide a survivable, high capability communication system. Based on favorable results from a funded risk reduction study, the B-2 will integrate an EHF communication capability satisfying connectivity requirements.
This leeds to the thought that currently the B-2 does not satisfy this requirement. Why would it not? Unless it is surrounded in an electromagnetic bubble which would break up communications just as it would radar.
Another thing that interested me in my research is the engines that are supposedly used on the B-2. The engines used on the B-2 are supposedly GE-F118 turbofan engines, and according to GE's Webpage,
http://www.geae.com/engines/military/f118/index.html
, on the engine, , it is also used on the U-2. The fact that those two aircraft are the only ones to use that engine strikes me as odd. I don't find it odd that there are only two aircraft that use the engine, as there are some engines specifically designed for only one aircraft. What strikes me as odd is that, the two aircraft have entirely different roles. If you look through the other engines you will see that, for the most part, the aircraft that use the same engines are very similar to each other. That isn't anything conclusive, but I did find it to be quite interesting.
A little history:
In 1968 Northrop submitted a paper to the American Institute of Aeronautics and Astronautics entitled "Electro-Aerodynamics in Supersonic Flow". The thrust (pun intended) of the paper had to do with drag reduction and cutting heat friction and fuel burn. It was also noted in this paper that plasma surrounding an aircraft actually reduces it's radar cross section.
This is a dual-purpose technology that Northrop, the designer and manufacturer of the B-2 has known of for well over a quarter of a century.
The Russians too caught onto this and now the internet is filled with web sites touting Russia's "Plasma Stealth Technology" as the latest and greatest thing... and yet it is technology that Northrop had back in 1968.
Moving forward in history we come to the time that the Advanced Technology Bomber (B-2) was being developed, with Northrop winning the contract over Lockheed's Skunkworks...That in itself is pretty amazing actually.
So perhaps, (and this is just as "perhaps"), Northrop won out over Lockheed based on their knowledge and continuing progress in electrically reduced radar cross section & electro-aerodynamics simultaneously.
A Few Considerations:
So, IF the various reports are indeed true about the B-2 charging it's leading edges, could it be that this grossly underpowered (theoretically based on information on aircraft aerodynamics, engine thrust, and max weight, which tend to be diffrent from source to source), 325-375,000 lb flying wing utilizes this charge for a duality of functions.
1. What is also clear by the nature and implications of Northrop's 1968 research paper, is that the electrostatic field could actually provide a significant parallel reduction in drag and a concomitant improvement in lift - even to a sub-sonic vehicle.
2. A benefit that piggybacks on the electroaerodynamics and yet is an integral part of the B-2 equation; a form of electrically charged stealth, whether it be Plasma or some alternative electrostatic form of reduction of radar cross-section.
Electro-Aerodynamics instead of Electrogravitics, some form of Electro-static stealth perhaps plasma stealth... and it all stems from Northrop's research paper "Electro-Aerodynamics in Supersonic Flow" written back in 1968. The B-2, I believe, is the embodiment of that research.
Just some images to consider as well.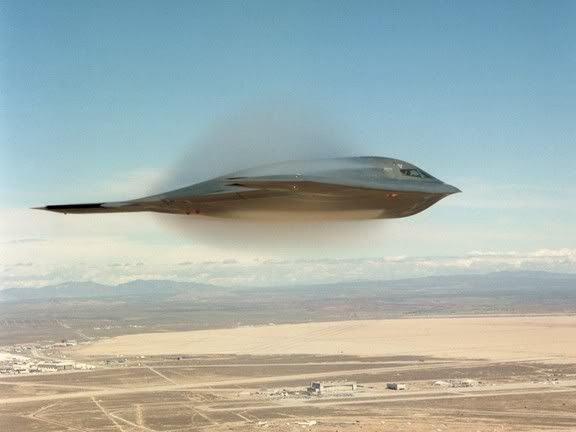 The effect that I hear almost every time regarding these two pictures is the same effect that you see around jets as they are breaking the sound barrier, which I do not believe these pictures depict.