Joined

19 May 2009
Messages

385
Reaction score

189
Does anyone have any info or pics or drawings of this airplane?
I just discovered the existence of this plane while visiting Dave's Warbirds - http://www.daveswarbirds.com/Nippon/aircraft/Tillie.htm
I did a google search and found no other info on this project except for a Czech site - http://forum.valka.cz/viewtopic.php/t/31668
I ran their text thru Google Translate and then "polished" up the translation as best as I could. I think Google and I got it right but don't take it as gospel. If I got any of it wrong please correct it:
"Yokosuka H7Y1
History:
Technical specifications issued by the 12-Shi Naval air force in 1937, called for a three-engine or four-engined flying boat with a requirement for a very long-range - 9,250 km while carrying 1,600 kg in bombs. Such a range should allow it to carry out patrol flights over the anchorage at Pearl Harbor without having to refuel at sea.
At that time there was a long-range flying boat, the German Dornier Do 26. It was a four-engined aircraft, whose engines, Junkers Jumo-205cm, were mounted in tandem which was Dornier specialty. Some of these long range diesel engines were ordered from Germany for use on the prototype. The resulting aircraft was designated as "Special flying boat, 12-Shi" H7Y1. Great emphasis was placed decreasing aerodynamic drag and the lowest possible aircraft weight, resulting in a decrease in strength of the airframe, and speed and defensive weaponry were also sacrificed to increase range. The whole project was kept strictly secret.
The first prototype flew in 1939 and during the first few flights fears were confirmed that in striving for a lightweight design, the wings appeared to warp, the airplane suffered strong vibrations of the hull and wings, and various other problems including engines not powerful enough for an aircraft weighing 18,000 kg. Thanks to lightweight design, the Navy had also come to terms with the fact that the airplane was incapable of carrying out a torpedo attack. The design team tried to correct what they could, but the airplane remained too fragile and the Navy eventually decided on 6th June, 1940 to terminate the entire program. Japan was unable to attack Pearl Harbor without carrier based aircraft, even the long range H8K2 "Emily" flying boats had to refuel from submarines, otherwise they did not have the range to fly to Pearl Harbor."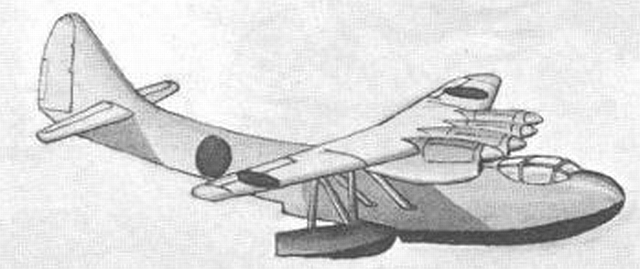 As for the engines (again my rough translation):
"Japan got a few six-cylinder engine Junkers Jumo 205cm engines from Germany. This aircraft engine was interesting in terms of ignition fuel - it was a two-stroke diesel engine. Overall, it was an interesting engine design, if not quite a successful one. This mechanical compressor engine and its extreme height is given by its more interesting design - it was a rotating engine with pistons! This means that one cylinder is moving two pistons. The German planes are used height Junkers Ju-86."
From the diagram the site posted below, it looks like a an opposed cylinder design, where one cylinder houses two pistons.