I really should change my personal text
Joined

Mar 23, 2019
Messages

303
Reaction score

162
F-16 with DSI vs basic F-16:

Is the inlet larger or smaller when DSI is added?

J-10A vs J-10B:
If you compare the fixed intake with boundary layer diverter aka BLD with DSI, you will get this conclusion:
Pressure recovery tends to decrease at supersonic speed at all conditions. This is due to the fact that the shock waves at the inlet in supersonic condition causes additional pressure loss and hence it results in lower pressure recovery as compared (Goldsmith and Seddon 1993, Mattingly 2002). This phenomena is quite similar in fixed intakes (Ibrahim, Ng et al. 2011).
The results revealed that BLD intake configuration is more effective in subsonic regime as compared to DSI configuration, whereas at supersonic speeds DSI configurations gave superior performance.
Comparative Flow Field Analysis of Boundary Layer Diverter Intake and Diverterless Supersonic Intake Configuration I. Arif† , S. Salamat, M. Ahmed, F. Qureshi and S. Shah
However consider the fixed intake can not compete with a Variable geometry one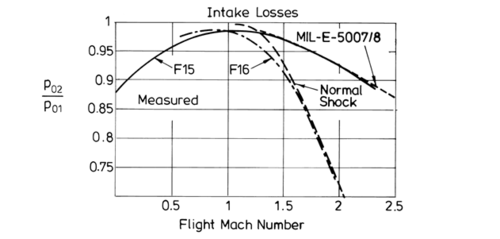 So while the DSI intake on F-16 is marginally better than the BLD type at supersonic speeds, both are inferior to the one on F-15 at supersonic speeds, Su-57 thus uses one with variable geometry and several shocks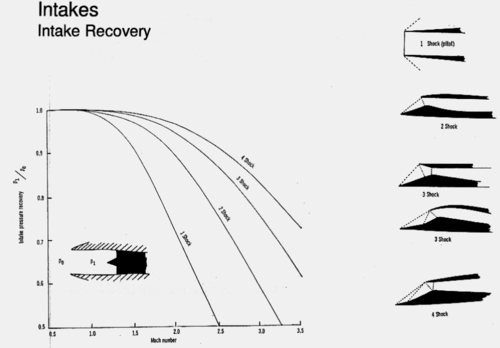 So J-10B/C are also slower compared to the original J-10A and show inferior acceleration near their max speeds compared to J-10A.
Su-57 has the ideal intake for high speeds and it will have better pressure recovery than both J-10C, F-35 and J-20, just because it has variable geometry intakes

Even with WS-15, J-20 will not be able to compete with Su-35 nor Su-57 in terms of supersonic acceleration, so the Chinese are overhyping J-20 supersonic ability, very likely because with WS-10, or Al-31 and a fixed DSI intake has not really the best acceleration compared to Su-35 and Su-57, thus the purchase of Su-35 was justified as an aircraft with higher acceleration than J-20
Last edited: