Joined

Oct 5, 2009
Messages

662
Reaction score

23
NATF & A-12v2 were "small" in that they were single-service, single-use airframes both destined for a service where all must bow to the Gods of the Flattops.

Without the C then the A would have only had a 1k bomb bay instead of 2k, the B would not have had SWAT, and both the A & B would have ended up heavier than they did.

In a "common avionics & engine" scenario, the C would still be limited to the performance of the F135 so I am not sure of what benefit separate programs would have been. In either case, costs would have only gone up as most development would have to be duplicated and parts economy of scale goes out the window for anything not avionics or engine related.
As far as I know without the C variant the whole airframe layout would have been much different anyway so I don't think you can make a direct comparison about weight like that.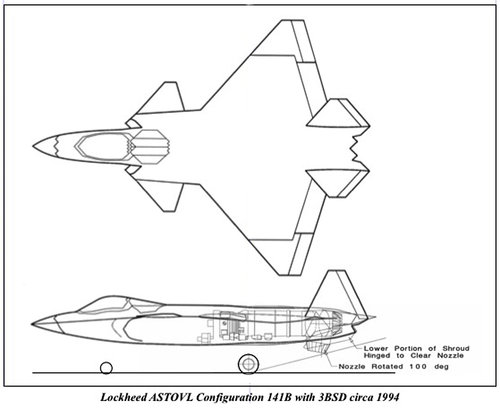 From
https://www.codeonemagazine.com/f35_article.html?item_id=137
The F135 wouldn't really be optimal for a twin-engine fighter so perhaps something closer to an updated F119 using as many improvements as possible from the F135 would make sense if we detach cost from the picture for a second.
While I feel that the F-35C will certainly be a useful asset for the carrier air wing there is a lot of overlap in the overall characteristics of the F-35C and F/A-18E, especially once they upgrade the latter with CFTs and whatever else they're planning. In an ideal world the Navy would have gotten something larger than the F-35C with greater performance although it would inevitably cost somewhat more. Alternatively the F-35C and some sort of "F-14E" would probably have complimented each other pretty well in an alternate reality.