ACCESS: USAP
Senior Member
Joined

Jun 25, 2009
Messages

13,220
Reaction score

891
Although this was mentioned on a couple of occasions on the forum, there never was a dedicated topic, so here goes.
In order to improve sales prospects in the United States, the fifth Handley Page
Jetstream
prototype was fitted with the US-built Garrett AiResearch TPE-331 in place of the French
Astazou
.
Changing to the US-built engine was enough to allow the US Air Force to consider it for cargo use. They eventually placed an order for 11, fitted with a cargo door and accommodation for 12 passengers or 6 stretcher cases, to be known as the C-10A, or
Jetstream 3M
. Beechcraft records mention the Model 115 as corresponding to a "C-10A", which would indicate that the company would probably have marketed the type in the U.S. on behalf of Handley Page. Beechcraft was already in a deal with Hawker Siddeley at the time over the HS.125 series so it makes sense somehow.
However the USAF cancelled the C-10A order in October 1969 citing late delivery. The C-10 slot was later reallocated to the McDonnell Douglas DC-10 in its tanker version as the KC-10A
Extender
.
A "C-10A" nose section appears on the web
here
and
here
and is said to have been exhibited at the 1968 Farnborough Air Show, but I do not know if it's from the fifth prototype or simply a mock-up nose section. It is on display at the UK's North East Aircraft Museum.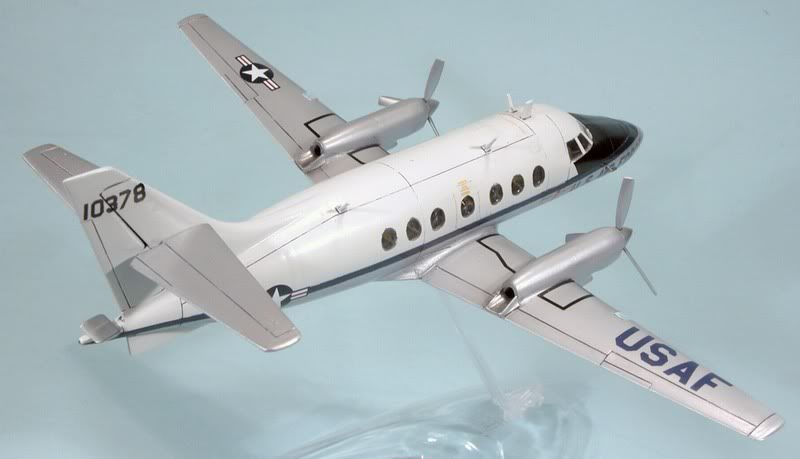 Below are pics of the Airfix model, which came out at a time when the C-10A procurement was a sure thing. Although the model was in the Airfix catalogue from 1969 to 1977, and briefly reissued in 1987-88 (see attachment), it is quite a hard-to-find item nowadays. Airfix also had them briefly as a 'Club Members' Limited Edition a couple of years ago. Some Astazou engine sets were made by Aeroclub and enabled the builders to change the model back to a "regular" Jetstream. They were vacuformed with white metal nacelle fronts and props.
The original model kit from the
Vintage Airfix website
:

A few pics from fighters.forumactif.com
: