You can count on me - I won a contest
Joined

Nov 2, 2008
Messages

326
Reaction score

207
Painting recently found listed on eBay with no useful background. Does anyone have any info on it?
The artist is R.G. Smith, house artist at Douglas Aircraft, and it looks like his style so I assume it represents a Douglas concept. Douglas explored all sorts of exotica over the years - WIGs, composite aircraft, blimps, troop-carrying rockets - but I don't think I've ever before seen a Douglas design with rotors.
Its an odd animal and looks a little half-baked so I suspect that it was more of a concept than design into which much work had gone. Just based on the configuration, shape and paint job, I'd date it in the early to mid-sixties. It's reminiscent of the Fairey Rotodyne morphed with an A-3 Skywarrior.
- It looks to me like the center of lift for the rotors and wing are displaced by quite a bit. Maybe the passengers, sitting behind the odd Greyhound-bus windows, had to move fore and aft between flight modes.
= There's no hint of how the rotors are driven - no sign of engines in the fuselage, except for a gap in the windows in the forward fuselage, or any sort of tip jets. I don't know what sort of engine would fit in the nacelles depicted.
- The windscreen looks optimistic
- The wing looks improbably thin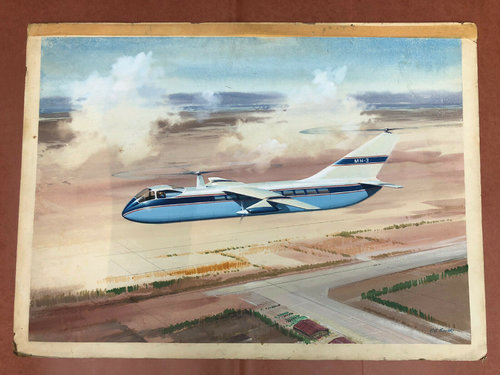 Last edited: