Joined

Nov 15, 2019
Messages

17
Reaction score

30
These projects date back to the beginning of the 20th century when many warship experiences and design concepts were developed. Neither proved to be viable. There is little information about these projects and in one case it is only possible to speculate on certain specifications.
The first one is the
'Aircraft Parent Ship'
that was designed by William Beardmore & Co in 1912 for the British Admiralty's Air Department
.
It was probably the first Aircraft Carrier design ever, but it was for a hybrid of a destroyer tender and a carrier for seaplanes and aeroplanes. The hull was based on the first british 'dreadnought' battleships type design but it's not quite clear if the intention was a conversion or a new project. There were two islands, one in each side with a bridge structure connecting them where lied the commanding facilities. Each island housed three planes, the first hangar housed four and the second hangar six seaplanes disassembled. The lift conect the first hangar to the landing deck. In bad weather conditions the deck between the islands could be covered.
These were the available specifications:
Displacement: 15,250 t (standard)
Dimensions: 485ft x 118ft
Armament: Six 3,9in (single), sixteen aircrafts.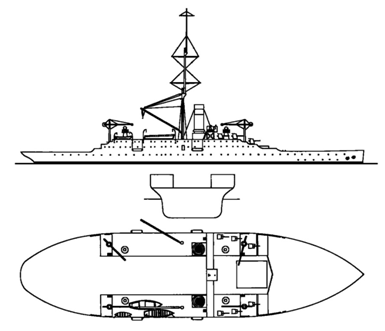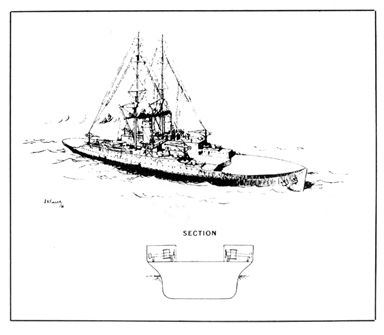 Sources: 'The Design of Aircraft Carriers Prior to World War II' – D. K. Brown; 'The Hybrid Warships' – R. D. Layman and 'British Aircraft Carriers' – D. Hobbs​
The second one is a little more unusual.
Vickers Design nº 128
was described as a
'Swift Ship for Carrying Submarines'
. The year wich this design was developed isn't available but the sequence of Vickers design numbers suggests 1904 as the probable year. At this time Vickers had the monopoly of the Royal Navy's submarine design and contruction and probably worked as an agent of the US Eletric Boat Co. wich had the
'Holland'
submarine patent and was also interested in expansion of the submarine sales. Design nº 128 was an enlarged version of the torpedo-boat Carrier
'Vucan'
built in 1889 in a protected cruiser's hull. Design nº 128 used an armoured cruiser's hull and as '
Vulcan
' she probably could have carried the submarines on her deck and had repair workshops and equipament stores.
'Vulcan
' suffered some structural problems and her hull had to be strengthened to operate her two big 'goose neck' cranes. It's probable that Design nº 128 used a bigger version of this kind of cranes, afterall an A1 submarine was almost ten times heavier than a torpedo boat. This could explain a displacement similar to the 1st class contemporary battleships. The possibility to carry the submarines in the sides of the ship was impratical for the projected speed. Design nº 128 had the following specifications:
Displacement: 16,000 t (standard)
Dimensions: 510ft x 77ft x 27ft.
Propulsion: 22,5 kts on 30,000 IHP
Protection: 7in main belt.
Armament: Four 9,2in (one twin fore and two single aft), eight 7,5in QF (single mounting on upper deck), twenty 14pdr QF, twenty 3pdr QF and two A class type submarines.
The images below of the '
HMS Vulcan'
could indicate the probable appearence of the Design nº 128.


Specifications of the '
HMS Vulcan'
:
Displacement: 6,800 t (standard)
Dimensions: 350ft x 58ft x 23ft.
Propulsion: 20 kts on 12,000 IHP
Protection: 5in main belt.
Armament: Eight 4,7in (single), twelve 3pdr QF and six 16t Yarrow 1889 torpedo-boats.
The A class submarines from 1903 has the folowing specifications:
Displacement: 190 t (surface)
207t (underwater)
Dimensions: 105ft x 12ft x 10ft.
Propulsion: 11,5 kts (surfaced), 6 kts (dived) on 600 HP alternate engine, 150 HP eletric motor
Armament: Two 18in torpedo tubes.
A1 type submarine: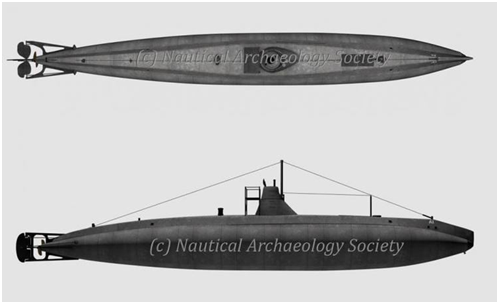 Sources: Archives of the 'National Maritme Museum'; 'British Cruisers of the Victorian Era' – Norman Friedman and 'All the World's Fighting Ships 1860-1905' – Conway's
I'd be grateful if you could enrich this text with more information.