ACCESS: USAP
Senior Member
Joined

Jun 25, 2009
Messages

13,225
Reaction score

804
In January 1973, the Taiwanese company AIDC (or Aero Industry Development Center) started to develop its second aircraft, the XC-2 civil transport. It was a high-wing twin-turboprop monoplane designed to address both military and civil purposes, equipped with a rapidly reconfigurable cargo compartment and able to operate from short unprepared airstrips. A "quick change" passenger/freight variant also planned.
In its civilian guise, the XC-2 (which must not be confused with the much later Kawasaki Heavy Industries transport from Japan) could carry 38 passengers, while in freight configuration, its maximum useful payload was 3,855 kg. The fuselage was of semi-monocoque construction with a rear opening for loading. The vertical fin had a slight sweep while the horizontal stabilizer, position halfway across the fin, was unswept. The main undercarriage was carried in sponsons on either side of the boxy fuselage, maximising internal space. The cockpit could accomodate two pilots and a flight engineer. The civilian version was to have a toilet, a kitchen and a baggage compartment.
The protoype aircraft was first flown on February 26, 1979 in Formosa, Taiwan (Nationalist Republic of China), although some sources claim the it flew as early as 1978. After a limited flight test program, the XC-2 was canceled due to lack of interest from potential customers.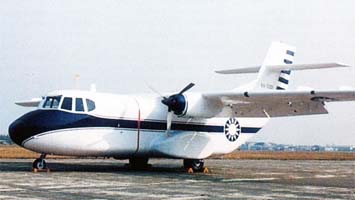 General characteristics
Crew: two pilots
Capacity: 38 passengers or 3,855 kg (8,500 lb) of cargo
Length: 20.10 m (65 ft 11¼ in)
Wingspan: 24.90 m (80 ft 8⅜ in)
Height: 7.72 m (25 ft 4 in)
Wing area: 65.4 m2 (704 ft2)
Empty weight: 7,031 kg (15,500 lb)
Gross weight: 12,474 kg (27,500 lb)
Powerplant: 2 × Lycoming T53-L-701A turboprops, 1,082 kW (1,451 hp) each
Performance
Maximum speed: 392 km/h (244 mph)
Cruising speed: 333 km/h (207 mph) (other sources give 370 km/h)
Range: 1,661 km (1,032 miles)
Service ceiling: 8,015 m (26,300 ft)
Rate of climb: 7.6 m/s (1500 ft/min)
(Technical data from Jane's All The World's Aircraft 1980-81)
Best online source:
http://www.airwar.ru/enc/craft/xc2.html