ACCESS: Top Secret
Senior Member
Joined

Feb 12, 2010
Messages

678
Reaction score

360
It would be challenging to find space in that small form factor. Being able to fit inside weapon bay would mean the missile would be constrained to about 4.5 m in length and some 40 cm in diameter. In such geometry tho.. the launch weight could be about 800 Kg, range could be about 450 km. Assuming ISP of 1200 sec.

You are assuming a conventional warhead though; a tactical atomic warhead could be made quite compact indeed. Or alternatively, it could possibly be fitted with a solid state EMP warhead, though that could be more bulky than a compact atomic device depending on the design.
Well space tho is reaaly premium. Ramjet, scramjet or HGV requires rocket to boost it to the operational speed. That 800 Kg "budget" and volumetrics would have been occupied mostly by the rocket booster and the combustion chamber.
The rocket booster itself will take about 3.17 meter in length. While the scramjet combustion chamber, being a function of the speed of the intake air will have 1.7 m in length. Some part of the booster will have to be inside the scramjet's combustion chamber during boost phase, before released and leaving the chamber empty for ramjet combustion to take place. With the constrain of the internal bay, you will have the following :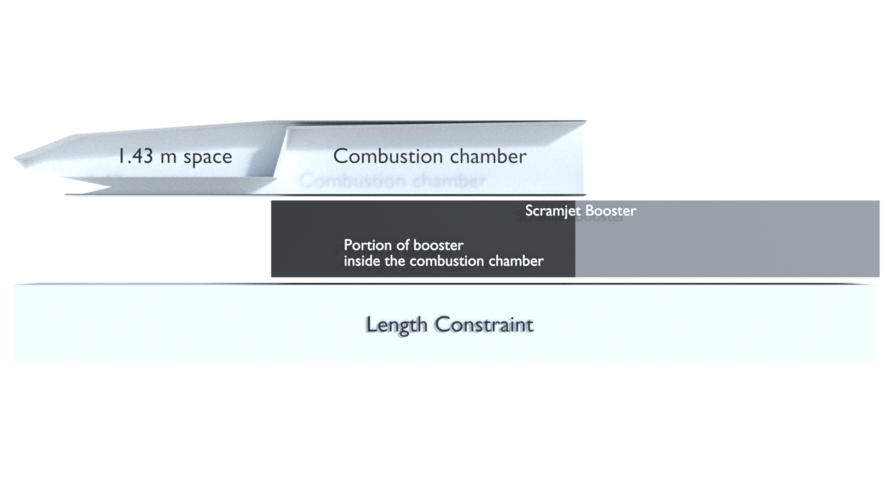 You see, you have like only 1.4 m and 40 cm width to put everything, which would be challenging.