In early 1950s Pratt and Whitney was working on supercritical water ducted blower aircraft engine.
410 MW thermal energy source was heating highly pressurized water to 1000F.
Here is the description of this engine from Aviation Week , December 19, 1960.
2.98 m low pressure air compressor/blower was driven by 49100 hp 20000 rpm steam turbine via 1/9.5 gearbox. Water pump was driven by a separate 7930 hp steam turbine. Exhaust steam was condensing in radiator heating compressed air to 385F. At sea level at 59F two engine aircraft was designed to fly at 685mph or Mach 0.9. Thrust of each engine at these conditions was 28257 lbs.
There were also some theoretical engineering papers on steam turbine turboprops, turbojets/turbofans, and air cushion vehicles.
An Analysis of a Nuclear Powered Supercritical-Water Cycle for Aircraft Propulsion​
REVIEW OF THE STATUS OF SUPERCRITICAL WATER REACTOR TECHNOLOGY​
Calculated condenser performance for a steam turbine power plant for aircraft (5000 hp steam turbine turboprop cooling)​
Investigation of a Sodium Vapor Compressor Jet for Nuclear Propulsion of Aircraft -Supersonic speed 1000 mph at 40000 ft​
Steam cycle analysis for nuclear powered turbofan engine - steam turbine driven bypass turbofan engine designed for flight speed 0.8 Mach.
Project of the giant fast air cushion vehicle with 14x6500 hp lift steam turbine air blowers and 8x35000 hp steam turbofans.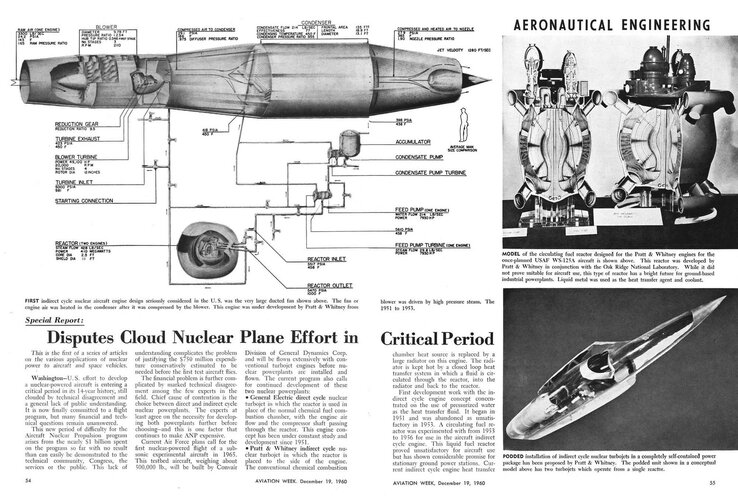 Last edited: