ACCESS: Secret
Senior Member
Joined

May 6, 2007
Messages

318
Reaction score

177
I was again going through the incredible collection of images posted by the San Diego Air & Space Museum (SDASM) on their Flickr photostream and was struck by some of the artist impressions and at least one model created by the folks at Convair/General Dynamics. Thought those here might be able to identify and/or connect the dots. These images were posted on October 26, 2012 and are mixed in with some Space Shuttle art. Some seems related to the Strategic Defense Initiative (SDI), as well as space-based surveillance Also, one image evokes "Blackstar" / Super Valkyrie / Mothership memories. Of course, all these images may be generic "in the future"-type images, but perhaps there is more to them than that?
Well, enough said, here are just a few of the images along with some of my impressions/guesses. Much larger images are available at the Flickr links provided. Also, additional images posted around the same time as these are well worth a look. Additional comments welcome!
"Blackstar / Super Valkyrie / Mothership"?
https://flic.kr/p/do6A61
Space-based Ocean Surveillance Radar (note the UK-Iceland Gap)?
Shuttle Radar Topography Mission (SRTM)
-derived?
https://flic.kr/p/do6A3o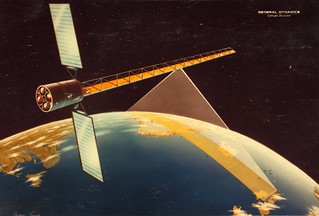 SDI?
https://flic.kr/p/do6sqk
A '60s-era Atlas-based (Missile Defense?) Space Station
https://flic.kr/p/do6zfE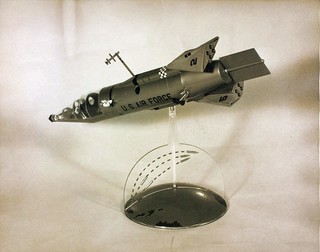 ??? ?? Some bus ('80s-era?) of some kind, carrying God-knows-what?
https://flic.kr/p/do6znm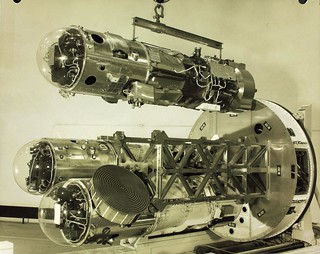 Wind tunnel model for an Advanced Cruise Missile concept? A manouvering re-entry vehicle? I give up...
(EDIT - 15-June-2019 - Looks like this may be the wind tunnel model for a late-'80s/'90s stand-off missile concept HAVE SLICK. See Secret Projects Topic -
HAVE SLICK stealthy, conformal missile
.)
http://www.flickr.com/photos/sdasmarchives/8126331738/in/photostream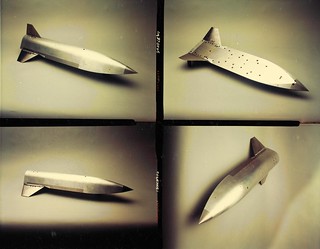 Last edited: