I really should change my personal text
Joined

Apr 9, 2018
Messages

272
Reaction score

512
Inspired by
this comment
from
@JFC Fuller
, from the 1940 Building Programme onwards, what form would Royal Navy Battleship designs take?
The design from which
Lion
evolved, Design 16F/38 was hardly the largest of the studies for battleships for the 1938 and 1939 Building Programme. Two notable examples, which later battleship designs could have been based on are described below:
Design 16E/38 was the largest of the and most heavily-armed of the
Lion
preliminary designs, with 12 16-inch guns, but had the same 110,000shp machinery a
KGV
, but in a 48,500 ton standard displacement, providing a speed of only 26knots.
Friedman states that this design was opposed by the Director of Plans on the grounds that firepower would only be gained on the broadside, that theaddition of a fourth turret would delay completion due to bottlenecks in turret production capacity, and that the ship could only be docked in three commercial docks in home waters.
Design 16G/38 was a larger, faster (making 30-31 knots with 150,000shp) alternative to design 16F/38 (which eventually became
Lion
). It should be noted that this was prior to the adoption of higher boiler forcing rates which increased Design 16F/38's installed from 115,000shp to 120,000shp, and then to the 130,000shp of the approved 1938 Lion design. It is also possibly prior to the adoption the transom stern on the Lion design (the conjectural sketches in John Robert's Penultimate Battleships have
KGV
-style cruiser-sterns).
Again Friedman states that this design was opposed by D of P, as a 2 knot increase in speed was not considered to be worth the increase in displacement, and that the increased speed was still insufficient to catch a cruiser in most a weather conditions, with the defence of trade routes from enemy raiders being a role that the new battleship was unlikely to perform in the first place.
Would later designs drawn for the 1940-41 Building Programmes onwards have any similarities to these designs?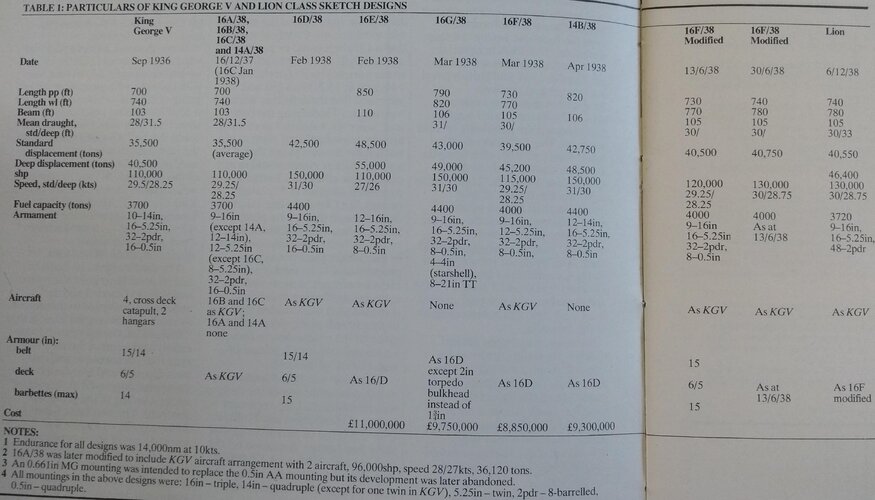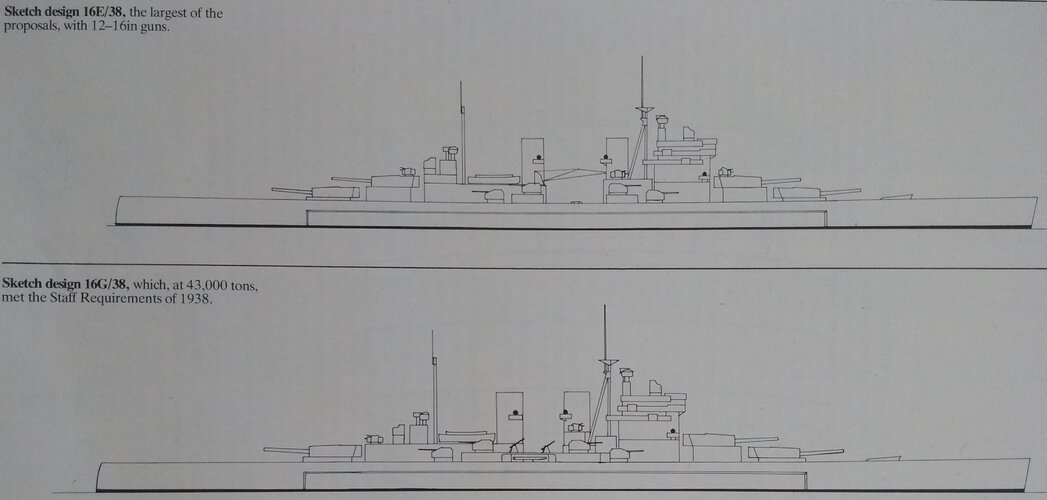 (Source of Images: Penultimate Battleships: The Lion class 1937-1946 by John Roberts, Warship No.19)