Hi. I am the author Lazlo Ferran.
My new book Screaming Angels is, I believe, the first novel published that is based on the dodgy deal Rolls Royce did with the Soviets to supply 10 (some say 20) of the then new Nene engine to Russia at the order or Stafford Cripps.
Unfortunately, although the Brits didn't believe the Russians would be able to reverse-engineer the secret Nimonic alloy used in the turbine blades, the Russians found a way to steal some samples of the milled alloy and thus build a copy of the Nene engine for their new MiG-15 jet fighter.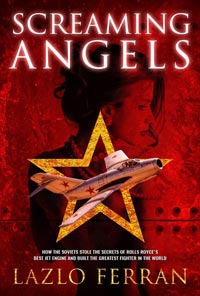 The result was a fighter that scared the pants off of allied fighter pilots and out-performed the new F-86 Sabre for the first year of the Korean War. It cost the life of many allied pilots and caused the USA to distrust the British aeronautical industry, to the point of imposing restrictions on the De Havilland Comet airliner's operation.
I researched the book as thoroughly as I could and made it as factual as possible while hopefully making it a fast-paced spy thriller for those less interested in the technical details. However, my background is in design and I am from a long line of engineers, so I hope the tech stuff is up to scratch. Hope you enjoy.
Here is the blurb:
1946: A Soviet delegation is collecting ten examples of the Rolls Royce Nene engine; at that time the most powerful jet engine in the world. Their plan: to steal the secrets of the engine's classified rotor material and copy it.
Rolls Royce manager Edward struggles to foil the Russians while trying to understand his feelings for beautiful Soviet delegate Yulia, fully aware of the tragic consequences should he fail.
Hot love in the Cold War, set against one of the strangest deals the British ever made with Soviet Russia, and one that would infuriate the USA.
The eBook is on Amazon here:
http://bit.ly/amangels
The Screaming Angels paperback is published in the USA but available to order at any branch of Waterstones, Foyles or Blackwell's. If yo are in the USA, many branches of B&N have it in stock - see this page for details:
https://lazloferran.com/bookshops-carrying-screaming-angels/