The path not taken.
Senior Member
Joined

Oct 9, 2009
Messages

10,905
Reaction score

1,257
http://www.bbc.co.uk/news/science-environment-25178299
http://www.youtube.com/watch?v=lgZslWEQZHY
http://www.militaryphotos.net/forums/showthread.php?232992-Chinese-mission-to-Moon-launches

http://www.businessweek.com/articles/2013-11-26/chinas-jade-rabbit-moonshot
http://www.scmp.com/news/china-insider/article/1366148/chinese-lunar-rover-named-jade-rabbit-land-moon-next-month
(
Early prototype or mock-up?
)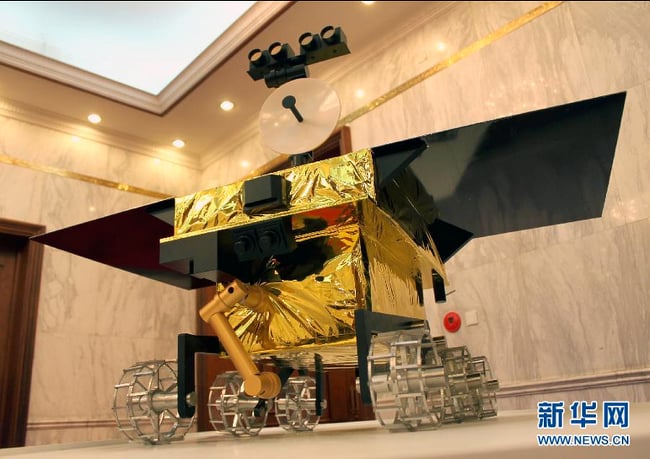 http://www.theregister.co.uk/2013/11/27/china_lunar_rover_yutu_jade_rabbit/
The country's first lunar buggy will be called Jade Rabbit after an online poll to pick its name chose the moniker from Chinese folklore. China's lunar missions are named after Chang'e, the moon goddess and in myths, Yutu is her pet rabbit who lives on the Moon with her.

Yutu is part of the Chang'e-3 lunar probe mission, which will be launched early in December, the State Administration of Science, Technology and Industry for National Defence announced, according to state news agency Xinhua.

Yutu is scheduled to land later in the month and explore the surface for three months, marking the first time a Chinese spacecraft has soft-landed on the surface of an extraterrestrial body.

China already launched its first moon orbiter, Chang'e-1, back in 2007, which has taken photos of the surface and analysed the Moon's elements. The second unmanned probe, Chang'e-2, went up in 2010 and has been researching the space rock and running tests in preparation for the country's lunar landing.

Ouyang Ziyuan, chief scientist of the lunar orbiter project, told Xinhua that Yutu would survey the moon's geological surface and analyse substances on the surface, while looking for natural resources. The rover is aiming to land in Sinus Iridum, or the Bay of Rainbows, a plain of basaltic lava that was chosen because its level terrain would help maintain communications.

The state administration spokesperson Wu Zhijian said that over 80 per cent of the technology that would be used in the mission was new.