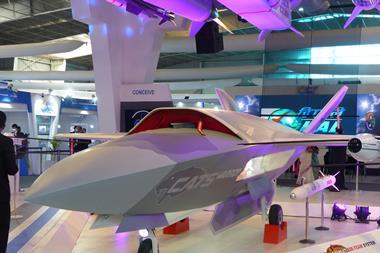 The project, with an initial investment of Rs 400 crore[~60M$], comprises three components that can be separately or simultaneously deployed – CATS Hunter, CATS Warrior and Alpha-S -- all of which are unmanned systems, but which can be controlled from the 'mothership', the fighter aircraft from which it is launched by its pilot from a safe distance. This unique concept will ensure maximum firepower against enemy targets, while keeping the pilot and fighter aircraft out of enemy fire.

The CATS Hunter is being conceived as an air-launched cruise missile that has the capability of deep penetration strikes which can be released by a fighter aircraft like LCA Tejas, Jaguar or Sukhoi-30 MKI. CATS Warrior can take off on its own from the ground and target enemy locations carrying heavy explosives. "It can go up to 700km and hit a target, or fly 350km, release attack drones and return to base," said Arup Chatterjee, Director (Engineering, Research & Development), HAL.

The Warrior can also carry and release the Alpha-S, a swarm of up to 24 drones each carrying about 5-8kg of explosives, and can target multiple enemy locations simultaneously on being released. Alternatively, the Alpha-S can be released directly by a fighter aircraft using a glider that can carry the drone swarms deep into enemy territory, controlled by the pilot from the mothership. The drones in the swarm of Alpha-S are networked via electronic data links, and equipped with electro-optical and infrared sensors. This enables each drone to select separate targets.
*I really like the program name even if that's not probably the most appropriate for... a
Loyal
robotic Wingman.

Last edited: