ACCESS: Secret
Senior Member
Joined

May 6, 2007
Messages

319
Reaction score

180
This is a new one to me. I've searched the forum and could not find much if anything on it, so I am posting a new topic dedicated to the Convair 660, a short-haul twin-jet. (Please remove or combine with another appropriate topic, if it already exists). The model photos (and artistic rendering) of the Convair 660 below were posted today by the on the Flickr Commons by the San Diego Air & Space Museum (SDASM) Archives. It appears as described as a DC-9/737/F-28 competitor, with even a "combi" arrangement illustrated.
As per the 7 December 1967 Flight International (Pg. 932) http://www.flightglobal.com/pdfarchive/view/1967/1967%20-%202342.html :
AFTER a lapse of several years, General Dynamics are making another effort to get into the commercial aircraft manufacturing business with an entirely new type. Airlines are being canvassed for their opinions of the projected Convair 660 for up to 88 passengers and powered by two Rolls-Royce RB.203-1 Trents and designed for short-haul markets at present being tackled by the Fokker Fellowship/ Fairchild Hiller F-228. According to details published in the Interavia Airletter and reproduced here, the 660 promises to have a greater payload-range than the similarly powered Fairchild Hiller F-228 and, despite higher permitted operating weights, an equally good airfield performance is claimed. An unusual over-wing engine location is chosen that should have the advantages of reducing wing bending moment yet be fairly high off the ground without requiring a long undercarriage and imposing a high-level floor. The forward cantilevering of the engines gives rise to a fairly lengthy tail arm and so the large door for freighter versions would be aft of the wing.
CONVAIR 660 DATA
Powerplant: two 9,7301b-thrust Rolls-Royce RB.203-1 Trents.
Dimensions: span, 85ft 7.7in; length, 82ft; height, 31ft 4in; wing area, 815 sq ft; wing sweep (i chord), 19.5°.
Weights: gross, 62,500lb; max landing, 61,500lb; max zero fuel, 53,000lb; equipped empty, 35,750lb.
Accommodation: max seating, 88 at 34in pitch six abreast; total under floor volume, 580 cu ft.
Performance: FAR take-off balanced field length (ISA, s.l., g.w.), 4,400ft; FAR landing field length (ISA, s.l., max land wt), 4,200ft; payload-range, see diagram.
** Here are the photos - Larger versions are available at the links provided below **
http://www.flickr.com/photos/sdasmarchives/22683145958/in/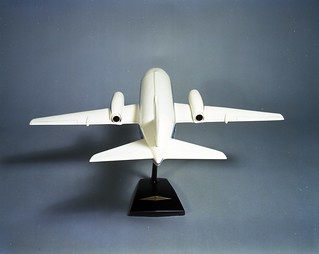 http://www.flickr.com/photos/sdasmarchives/22480238243/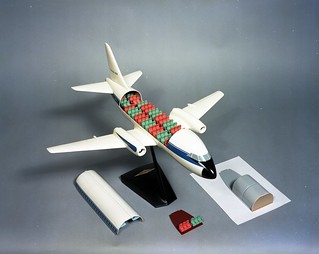 http://www.flickr.com/photos/sdasmarchives/23087743502/
http://www.flickr.com/photos/sdasmarchives/23075301826/
http://www.flickr.com/photos/sdasmarchives/22480146533/
http://www.flickr.com/photos/sdasmarchives/23101358675/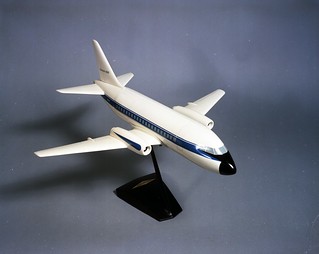 http://www.flickr.com/photos/sdasmarchives/22478556724/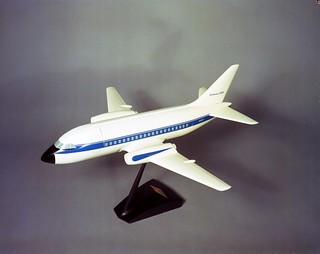 http://www.flickr.com/photos/sdasmarchives/22682906688/