Administrator
Staff member
Joined

Dec 27, 2005
Messages

13,674
Reaction score

7,934
SL-1
Used on: J-6A?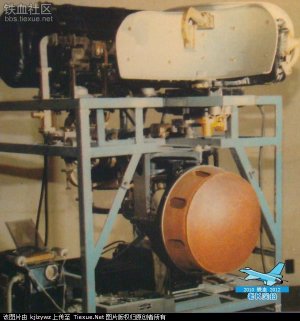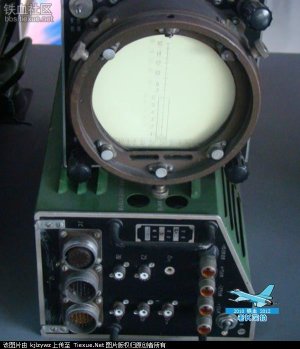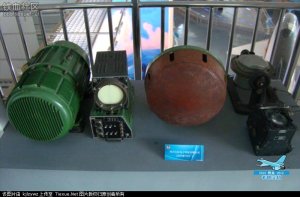 Description
Copy of Soviet RP-5 Izumrud radar.
SL-2/ SL-2A
Used on: J-7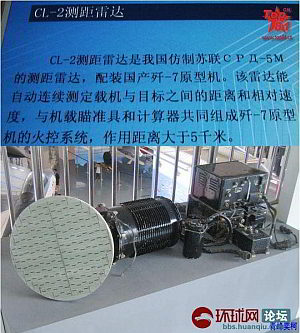 Description
Copy of Soviet SRD-5M radar. Improved SL-2A has increased range (8km vs 2km) and appears to use a planar array antenna.
SL-3 (Type 222)
Used on: J-7
Designed by: 607 Institute (CLETRI)
Description
First indigenous Chinese ranging radar.
Type 204 (SR-4)
Used on: J-8I
Designed by: 607 Institute (CLETRI)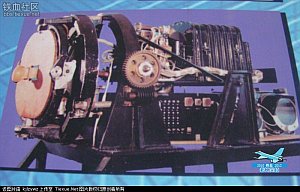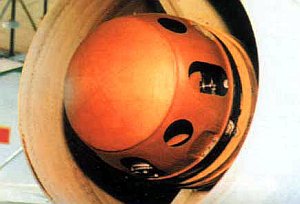 Description
In April 1965, a requirement was issued for a fire control radar for the J-8 with a range of 15km. March 1966 marked the start of serious work. A team of 140 were working on it but development was drastically slowed by the Cultural Revolution and it wasn't until April 1970 that formal design was completed and work began on construction of a prototype.Testing was limited to ground testing for some time and it wasn't until 1981 when initial acceptance tests on the radar were done and December 1985 when the first J-8I with SL-4 radar entered service. Development of the 204 radar won the designers several prizes, though it was obsolescent due to its difficult 19 year development process. It was supplanted on the J-8E by a JL-7 radar.
Specifications
Frequency: I/ J-band
Antenna: Cassegrain antenna
Scan limits: ± 38° azimuth, -12° to +24° elevation
Weight: 145kg (with cable and rack)
Type 226
Used on: J-7
Designed by: 607 Institute (CLETRI)
Description
Chinese designation for Marconi Skywatcher radar?
Type 232H
Used on: J-8I
Designed by: 607 Institute (CLETRI)
Radar for the original series JH-7.
Type 317 / 317A
Used on: Q-5B
Designed by: 607 Institute (CLETRI)
Description
Development of this primarily air-to-surface radar started in 1966 with the acquisition of a foreign radar, almost certainly a NASAAR R-14A from a crashed F-105 Thunderchief, and continued through the Cultural Revolution. Two prototypes were trialled in 1970, the final design was completed and a small batch produced in 1976 for the Q-5B torpedo bombing variant. In 1974-1976 a modernised 317A design was created which changed the radar from 3cm wavelength to 2cm, increased transmitter power, reduced receiver noise factor, reduced power consumption, and minimised size through adoption of solid state transistor technology. Two prototype radars were created. 317A weighed just 90 kg (excluding cables). Modes available include air search, tracking, topographic mapping, contour surface mapping, terrain avoidance and ground ranging.
Specifications
Antenna: elliptic paraboloid monopulse antenna, AC motor drives, angular rate gyro feedback. Stabilised in pitch and roll.
Transmitter: Magnetron, 50kW peak transmit power (307A -70kW)
Receiver: three-channel monopulse receiver
Search range: 20,60 km
Search limits: ± 45° azimuth, elevation +20°, -38°
Search Area: 90° × 10°; 14° × 10 °
Tracking range: 0.65 - 18km
angular accuracy: RMSE 5000
Operating height: 150 ~ 17000m
Operating frequency: 9.37GHz (307A - 15 GHz)
Pulse repetition frequency: 800Hz
Pulse width: 1μs (307A - 0.75μs)
Beam width: horizontal 3.4°, vertical 5.8°
Antenna gain 30.5dB, horizontal polarization
Receiver noise factor: 11dB (307A - 7dB)
IF frequency: 30MHz (307A - 60MHz)
IF Bandwidth: 2.5MHz
Display graphics: eccentric P-type, tracking symbol display
Power supply AC: 115V, 400Hz, single-phase 1000VA, phase 700VA, DC: 28V, 100W
Weight: 120kg (excluding cables and converters 8502.40.00) (307A - 90kg)
Variants
Type 317
used on Q-5B
Type 317A
tested on Q-5B. Formed basis of successful JL-7 radar. 
JL-7
Used on: J-7
Designed by: 607 Institute (CLETRI)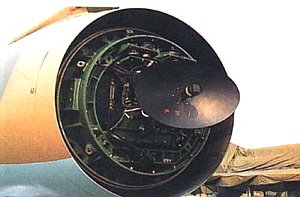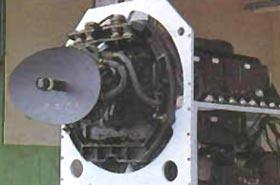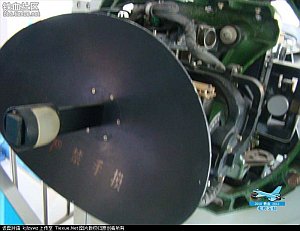 Description
When a MiG-21MF was acquired from Egypt and reverse engineered to form the J-7C, its RP-21MA radar was examined but failed to impress, and a derivative of the existing Type 317A radar repackaged and reworked for the J-7C with some additional air-air features including IFF integration. Five ECCM features were present on the radar, and for the first time in China had built in connections to a ground based test system. The electronics were reworked with integrated circuits.
Specifications
A/A Detection range: 30km
A/A Tracking range: >15km
Operating Height: >700m
Antenna: gain 30dB, beamwidth 3.4 ° (azimuth) × 5.6 ° (pitch), horizontal polarization
Transmitter: magnetron, peak power 75kW
Receiver: three-channel monopulse receiver
Noise factor: 6.5dB
IF frequency: 60MHz
Rangefinder: double integral, accuracy 15m (350 ~ 2000m range)
Display: storage tube display, B-type and tracking symbols
Power supply: AC: 115V, 400Hz, 10A, DC: 27V, 10A
Volume: 0.23m3
Weight: 115kg (with cable)
MTBF: 50h 
Variants
JL-7
used on J-7C
JL-7A
used on J-7D, improved version.
JL-7AG
used on J-8E
Type 205
Used on: J-9 (project)
Designed by: 607 Institute (CLETRI)
Description
Planned radar for the unbuilt J-9 fighter. 70km search range requirement.
Type 208 (SL-5)
Used on: J-8B
Designed by: 607 Institute (CLETRI)
Description
Radar for the J-8B, derived from the Type 204. Used enlarged cassegrain antenna and added CW illumination channel for PL-10 missiles. Completed China's first BVR missile shot in 1995 (other source says 1992), but Type 208 equipped J-8Bs were not armed with PL-10 in practice as range was no better than 18km. Radar search range approximately 40km.
Variants
Type 208 (SL-5)
Type 208A (SL-5A)
Type 208B
SL-8
Designed by: 607 Institute (CLETRI)
Description
Early pulse-doppler radar design in competition with the Type 1471 for J-8B. Roughly equal in performance, both radars roughly matching the Soviet Sapfir-23ML radar in capability and failing to match the AN/APG-66.
Specifications
Search range: 70km
Tracking range: 50km
Variants
SL-8
tested for J-8B, status unclear
SL-8A
improved version, status unclear
FG-8 / Zhuk-8II / Zhemchoug / RP-35
Designed by: 607 Institute (CLETRI)
Description
Russian Zhuk-8II radar was tested extensively in China and used to benchmark indigenous radars. Fitted to J-8IIM prototype (1995). Performance judged better than AN/APG-66 but slightly inferior to AN/APG-68. A batch of 20 improved Zhemchoug (Russian for "Pearl", a reference to abandoned Sino-US "Peace Pearl" program; Elta radars were called "Israeli Pearl" ) radars delivered later, possibly in bid to equip the production J-10 fighter, along with 2 phased-array RP-35 radars.
Variants
Zhuk-8II
Slightly downgraded version of Zhuk radar.
Zhemchoug
Chinese IFF equipped version of Zhuk-M.
RP-35
Prototype passive phased array designed for MiG-29M3/MiG-35, 2 delivered
JL-9
Designed by: Elta (Israel)
Description
Possibly the designation for Elta EL/M-2034 for the J-8C ("Israeli Pearl") project. EL/M-2034 was a development of the EL/M-2035 evolved with a larger 700mm antenna and larger transmitter, and faster processing systems. Target detection range was greater than 90 km with TWS and multi-target attack capability. Very strong ground attack capability.
JL-10 / JL-10A
Designed by: 607 Institute (CLETRI)
Description
Development of this radar goes at least as far back as 1986. China's first full waveform pulse doppler radar (low, medium, high PRFs). Probably designed for J-10 but lost out to NRIET's KLJ-3. Appears to have found a home on the JH-7A due to better compatibility with air-to-surface/anti-ship missiles.
SY-80
Designed by: 607 Institute (CLETRI)
Used on: J-7
Description
X band medium PRF Pulse doppler radar for J-7 series fighter.
Specifications
Weight: 60kg
Volume: <0.04 cubic m
Altitude: 0-18,000m
Tracking limits: ±30°
Search range: 30km
Single target track: 26km
Tracking angle accuracy: 6mrad
MTBF: 100Hrs
Type 1471 (KLJ-1, KLJ-1PD)
Designed by: 14 Institute (NRIET)
Used on: J-8H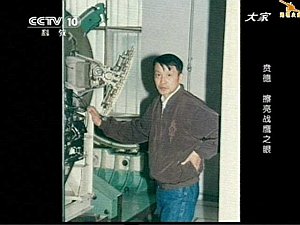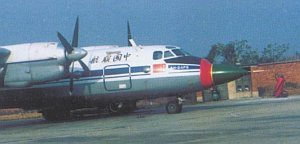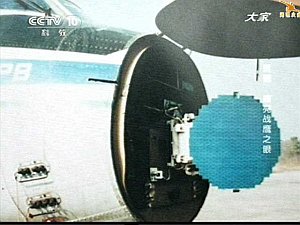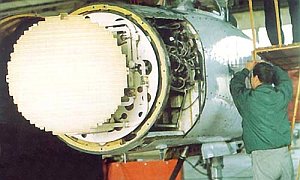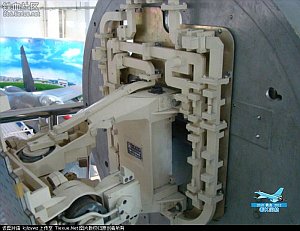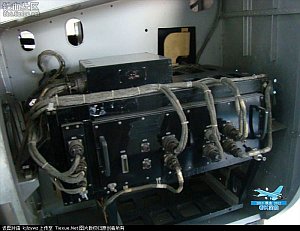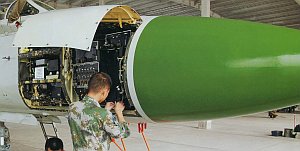 Description
By the late 1970s, with J-8 development restarted after the mong hiatus of the Cultural Revolution, China had realised that it was now critical to outfit the fighter with lookdown/shootdown pulse doppler radar and
BVR missiles.
Initially, with the USSR the main adversary, the task for the J-8 was to try to match the MiG-23 in capability. However, the development of such radars and missiles required advances in so many areas that it would be difficult to achieve without assistance. Accordingly, China embarked on a multi-pronged program, to set up indigenous radar development alongside obtaining from abroad whatever radar technology they could buy or steal. Accordingly, a number of purchases, some clandestine, and some public knowledge, of Western technology and entire radars was done. As early as 1979 China was negotiating with Elta for purchase of EL/M-2021B radars, the predecessor to the Lavi's EL/M-2035 - and some sources say certain critical components of this radar may have been transferred.
607 Institute (airborne radar specialists) and 14 Institute (previously ground based radars) were both tasked, in about 1980, with creating pulse-doppler radar prototypes for the J-8 and potential future fighters. In the interim, a foreign radar would be purchased for J-8B, despite the high cost, with attempts to obtain the "holy grail" of US radar technology eventually bearing fruit in the form of "Peace Pearl" and the AN/APG-66.
Ben De, designer of the successful 7010 early warning phased array radar, was appointed chief designer of 14 Institute's prototype radar which became known as 1471. Rather than attempt a full-waveform (low, medium and high PRF) pulse doppler radar, for the 1471 Ben De decided to go with a less ambitious low PRF MTI design roughly equivalent in capability to the MiG-23ML's N003. This eased the requirements for ultra-low sidelobes and high stability waveforms at some cost of capability.
Work on the indigenous radar continued through the 1980s but hopes of cross-pollination from AN/APG-66 proved fruitless as the US were very cautious about any kind of technology transfer, intending only to supply "sealed black boxes" not teach China how to make such a radar themselves. The US then cancelled the program in 1989 on political grounds after the Tiananmen Square massacre.
China were back to square one, and hurriedly cobbled together an interim radar solution for J-8B (Type 208) while accelerating attempts to develop their own pulse-doppler radars and also find another supplier for a modern radar.
Ben De's cautious approach to designing the 1471 paid off. Test flights in 1989, in competition with the SL-8 designed by 607 Institute, revealed a usable radar with a detection range exceeding 70km, lookdown capability, and the potential for BVR engagements. The rival SL-8 design had attempted too much, trying to match the AN/APG-66. Accordingly, the 1471 was ordered into production for an upgraded J-8 variant (J-8H), entering service around 1995.
Ben De went on to lead the design of the 1473, a true pulse doppler design.
Specifications
Type 1473 (KLJ-3)
Designed by: 14 Institute (NRIET)
Description
This important radar design beat 607 Institute's JL-10A radar in the competition to equip the J-10. Derived from the successful 1471 radar, it benefitted from 14 Institute's testing of foreign radar technology including the Zhuk radars obtained in the early/mid 1990s from post Soviet Russia and probably Israeli radars from Elta.
KLJ-6
Designed by: 14 Institute (NRIET)
Description
Supposedly based on the FIAR Pointer 2500 used on AMX, an update of Pointer, itself a license-built version of Elta EL/M-2001B.
Specifications
Variants
KLJ-6E
KLJ-6F
Type 1478 (KLJ-7)
Designed by: 14 Institute (NRIET)
Description
Specifications
Type 14xx (KLJ-10)
Designed by: 14 Institute (NRIET)
Description
Some sources suggest later J-10s use a newer radar than the KLJ-3, possibly KLJ-10. Others suggest the designation remains the same but hardware and software updates have been incorporated.
Type 1492(?)
Designed by: 14 Institute (NRIET)
Description
Supposedly used on the J-8F
Type 1494
Designed by: 14 Institute (NRIET)
Description
Radar for the J-11B
Last edited: