Joined

Jan 10, 2013
Messages

517
Reaction score

174
Website
A postcard which I discovered in my files recently. It shows an exhibit in the Crystal Palace in London, probably during the Great War Exhibition of 1920. The photo's title is:
REPLICA OF THE WAR'S BIGGEST GUN, ITS PROJECTILES AND CHARGE
The four projectiles shown are stencilled as follows (from left to right):
18 IN MK 1A A.P.C. FUZED
18 IN MK 1A H.E. FUZED
18 IN MK 1A SHRAPNEL FUZED
18 IN MK 1A C.P.C. FUZED
The topmost of the six propellant charges stacked up is labelled: 18 IN BL 105 LB CORDITE MD SIZE 45 1/6 CHARGE
A comparison with other gun photos, plus the six charges (which represent the full charge: 6 x 105 lb = 630 lb total charge) confirm that this replica is of the 18 inch naval gun which saw RN service in WW1, not the later, less powerful, howitzer. The shrapnel shell was presumably developed for its ultimate purpose of shore bombardment. The shells weighed in at 3,320 lbs (1506 kg).
More details about the gun and its ammunition are here:
http://www.navweaps.com/Weapons/WNBR_18-40_mk1.php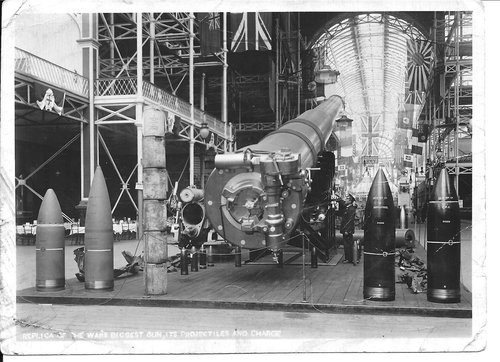 Last edited: